Evangeline Shrine

The Original Warrior Nun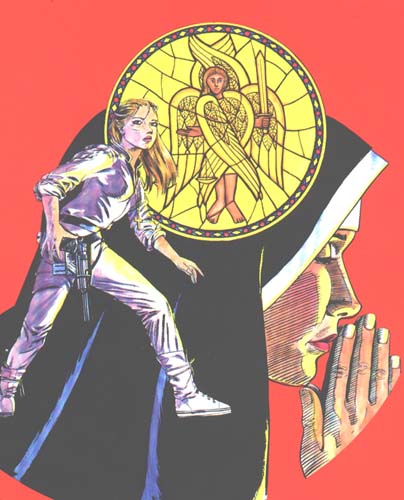 (From cover of Comico Primer, 1984, Dixon, Hunt, lettering by Susan Fox.)
Evangeline (property of Judith Hunt and Charles Dixon) was a book by Chuck Dixon about a girl trained on the orders of renegade Cardinal Szn to be a nun ready to defend the Church by whatever means necessary. Unlike La Femme Nikita she never questions her role, although we occasionally see her in a state of anguish. We never see her show any regrets for all the killing she has done. She almost always wins, and when she doesn't there's usually a handy Catholic around to giver her a hand. We see her come close to being raped in one episode, but the sight of a crucifix on her naked chest is enough to make her assailant immediately overcome his animal nature and become her ardent accomplice, even at the cost of his life. Evangeline is always portrayed as a rather smashing blonde. Being from South America, she's sort of a Xusha with high caliber armament and prayer beads. She sometimes uses her good looks to get within range of her victims. Her usual alias is that of a Countess di Christina. Off duty we see her in something that approximates a nun's habit. The setting of the stories always seems to be uncertain, sometimes seeming to be in the near future and sometimes centuries from now. Maybe Evangeline is way older than she looks. Her favorite and first weapon is the bow and arrow. In one issue we get to see her taking on dinosaurs with a set she fabricates herself from the wreckage of a space life boat.
Original art work was penciled by Judith Hunt with inks by Ricardo Villagran. Lettering was by Rod Ollerenshaw. The series started at Comico and then went to First in 1987 after an abortive stop at Lodestone in which the first two Comico issues were printed under a single wraparound cover. At first lettering was done by Ed King and edits by Rick Oliver. On issue 4 inks were taken over by John Nyberg and letters by Tom Addis. On issue 5 Cara Tereno replaced Judith. On 6 letters were by Gary Fields. On issue 7 pencils were by John Statema, inks by Jim Bauer, and letters by Kurt Hathaway. Issues 7 and 8 hit a low point in art work. Those covers are not on this page on purpose. Villagran returned to the inks on 9 and Addis on letters and there was a marked improvement. Jim Balent did the pencils on 11 and 12, the last of the series.
Besides Cardinal Szn, Brian was her trainer and Jonny Six was a small time hood who Evangeline twice press-ganged into helping her. By the end of the series he has a terminal crush on the Sister, but she is married only to God. The series came to a natural, planned end, but unlike many other terminations, not at the end of Evangeline's career. We leave her successfully completing her mission and there are bound to be more.
I asked Chuck Dixon about putting up this website and his response was: "I have no idea who holds the rights to Evangeline any longer. I don't think anyone knows. As for Judith Hunt, she could be anywhere. But she ain't here." (http://discserver.snap.com/discussion.cgi?id=55887&article=11777)

| | | |
| --- | --- | --- |
| An add for Evangeline | Cover for Comico issue 1 | Inner cover B&W art. |
| Glam head shot | Comico issue #2 cover, their last one. | Cover for the one-off Lodestone issue |
---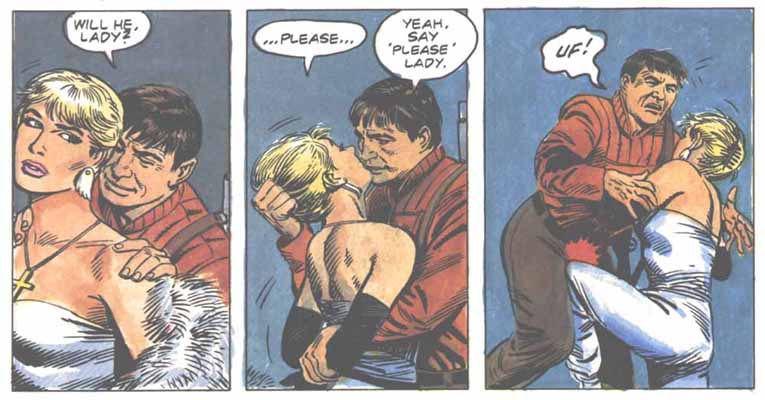 Don't mess with the Countess!
---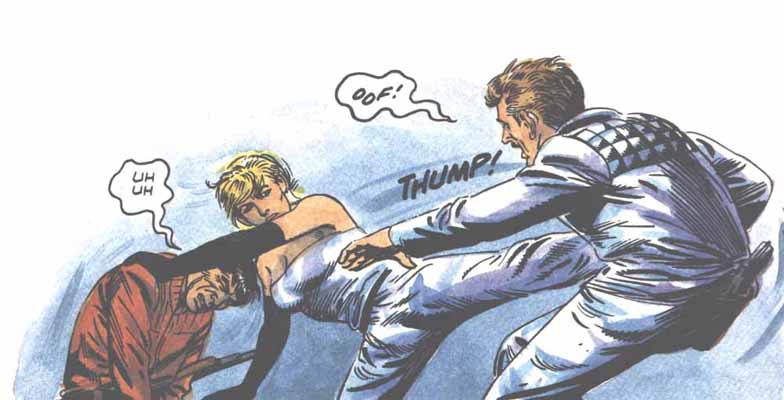 ---
| | | |
| --- | --- | --- |
| First issue #1 | First issue #2 | How Evangeline was recruited. |
---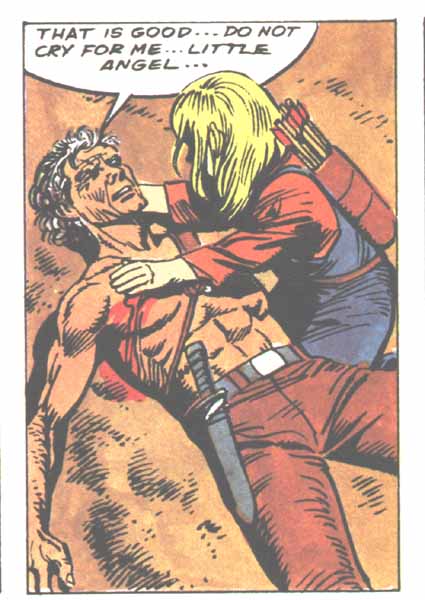 Death of Papa John.
---
| | | | |
| --- | --- | --- | --- |
| First cover #3 | First cover #4 | First cover #5 | First cover #6 |
---
---
| | | | | |
| --- | --- | --- | --- | --- |
| First cover #9 | First cover #10 | Splash page | First cover #11 | First cover #12, the final one |
---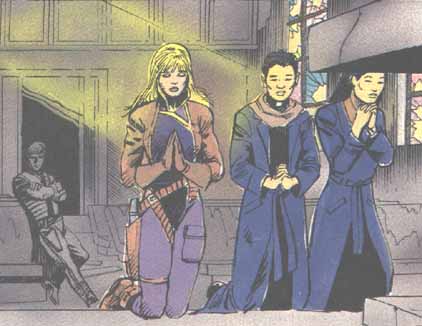 Evangeline at prayer.
---
| | |
| --- | --- |
| With children | Last image of Evangeline |
---
Evangeline is property of Judith Hunt and Charles Dixon
---





Last Update: 4 January 2002
Web Author: Doug Ikemi