Anime and Animation References and Resources
dkikemi.www9.50megs.com/anime_ref.html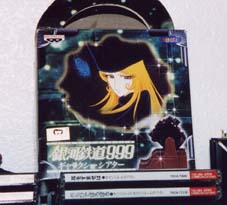 Calendar of Asian American events in LA, Excel format


One of my pet peeves is procuring anime merchandise and books. To get stuff at reasonable prices, try the bookstores and toy stores that cater to the expatriate Japanese community. The stuff at conventions is sometimes incredibly marked up, although there are some bargains. Some of the local (LA) places I've had luck at are listed below. Also listed are some reference books:
Asahiya Bookstore in the Mitsuwa Plaza
Suite 108, 333 S. Alameda St., LA, CA 90013, 213-626-5650. Yaohan was bought out and
renamed Mitsuwa in 2000.
Open 7 days, 10AM-7PM. Part of a chain, but not all of them are as well stocked as this one. The women who work there all wear the same Japanese type uniforms, but they're not all the same. Some seem to be really up on their manga, so results may be different depending on whom you talk to. Knowing a little Japanese helps when making an inquiry. A lady in the Torrance store wasn't able to help me to order the Eiko Kadono Kiki books and the Whisper of the Heart manga, but a woman in the LA store had no problem figuring out what they were. On the other hand, the Torrance store regularly stocks the Afternoon periodical, and the LA one doesn't. The Torrance one seems to stock the Kodansha bilingual comic books on an irregular basis, but they're getting better. They're stocking Love Hina, GTO, and others. They have an anime section hidden along one wall.

Kinokuniya Bookstore
23 South Onizuka St., Suite 205, Little Tokyo, downtown LA, 213-687-4447
upstairs in a little shopping square called Weller Place. Seven days a week, open till 8PM.
Again, part of a chain, but this one is particularly well stocked. The one in San Jose does not have all the anime merchandise. They don't wear uniforms there, there are male employees. They've expanded their stock of anime merchandise, but they don't seem to be able to stock the Kodansha bilingual comic books reliably [Kodansha is no longer distributing these books!]. They do stock the Mixx Parasyte TPBs, which are hard to find. They also seem to have more trouble making special orders than Asahiya, but they recently did a good job of getting The Big O manga for me. Their 2001 anime and manga catalog has an especially nice cover with both Ifurita and R.Dorothy on it. In 2003 the anime sections have really expanded, and they stock a large no. of anime DVDs, but at list price.(9/3/2003)



Alpha Shoken USA Toy Stores
21515 Western Ave., Torrance, CA, in the Mitsuwa shopping center, 310-618-9753
Carries Studio Ghibli merchandise at reasonable prices
Also in the LA Mitsuwa/Yaohan (see Asahiya) and in Costa Mesa at 665 Paularino Ave., 714-549-0279. The store in LA had disappeared by the beginning of September 2003.
Originally opened in the Torrance Mitsuwa (formerly Yaohan), MANDARAKE was a store specializing in manga and anime, and a branch of the famous chain based in Japan. In the Homeland employees are supposed to cosplay and perform, but in American they just took your money. Lot's of used things. Great prices on tankouban. 21515 Western Ave., Torrance, CA 90501, 310-212-0777, fax 310-212-7778, www.mandarake.co.jp. The Torrance site was closed and moved to Santa Monica, down the street from Hi De Ho Comics. (10-30-2002.) The Santa Monica site is now closed down probably because of a lack of parking and I imagine high rent. (9/3/2003)
Nearby just south of the Torrance Mitsuwa/Yaohan on Carson is Video Japan 2, 310-787-1131, which has a lot of untranslated videos for rent, including such gems as Future Boy Conan.
Books Nippan on 7th St. Downtown LA is history. Nobody has replaced them as a source of picture books. However, both the Kinokuniya and Asahiya (in the Mitsuwa) bookstores in downtown Little Tokyo seem to have expanded their selections. Kinokuniya is becoming close to what Books Nippan used to be.
Book Off. Itasho Bookstores was in the same place as a branch of the now defunct Books Nippan. Itasho is in Pacific Square in Gardena, on Redondo Beach Blvd. east of Western. Lots of anime merchandise, not many books, and a small collection of videos. They've also gone out of business and been replaced by a used Japanese book store called Book Off. They have used real Japanese anime CDs, used manga (their stongpoint), kits sometimes, and picture books. Definitely worth a visit.
Anime Gamers, formerly Omochabox, 10811 Pico Blvd., 310.481.1410, fax: 310.481.1409, email: retail@omochabox.com, Los Angeles, CA 90064, www.omochabox.com. (Corner of Pico and Westwood). They may have more recent stuff.
AnimeJungle, 319 E. 2nd St., #103, LA, CA 90012, 213-621-1661, animejungle@aol.com, www.animejungle.com. Located in the nearly abandoned underground mall in Little Tokyo, improving selection of figure models and posters, as well as CDs for a reasonable price and LDs. I think this is becoming one of the premier anime stores in the LA area, especially for older stuff.
Noriko's Anime, 24344 Muirlands Blvd., Lake Forest CA 92630, (949) 583-7688, or fax at (949) 583-7699, noriko@darkharbor.com, www.darkharbor.com. Accessories for collecting pencil boards. Most pencil boards are not kept at the shop. Check the website first and call to ask them to bring in what you want.
Banzai Anime 2961 Sepulveda Blvd., West LA, CA 90046 , 310-231-6080. www.banzaianime.com. The place to go to buy DVD if you were in a rush and didn't want to order from the internet. However, their pricing of VHS products was erratic and totally out of line. This store has disappeared
Animate 7314 Melrose, West LA, CA 90046, 323-934-0500, www.animate-world.com. Near Melrose and Fuller. Had a large selection of recent stuff. Also closed down.
Robert's Animecornerstore.com has been the most reliable internet site for ordering DVDs, if not the cheapest. They also have CDs at reasonable prices. If you're looking for the cheapest deals without the best selection, try buy.com and deepdiscountdvd.com.com. The latter is usually the cheapest, but has the smallest selection. (11-02-2002)
Deepdiscountdvd.com has become my site of choice for acquiring anime DVDs. They take a little longer to acquire titles, they don't stock them all, and they take longer to deliver, but they seem to be the cheapest.
Half.com, an avatar of ebay, is the back-up when deepdiscountdvd.com doesn't have something. Ebay itself tends to have higher DVD prices than Deepdiscountdvd.com, but of course is good for finding dolls, magazines, etc.
Buy.com sometime is worthwhile if they are featuring free shipping on an item. If you have to return something to buy.com, they'll make you suffer, so make sure you get your order right.
Here are some recommended books and periodicals: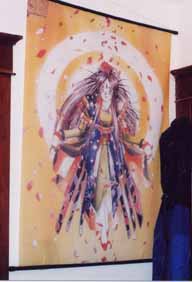 The Anime Encyclopedia by Jonathan Clemenets and Helen McCarthy, Stone Bridge Press, 2001, $24.95. 545 pages of 2000 representative titles. A quick look at the book indicates that it is riddled with plot inaccuracies. However, it does give a general idea of what's going on. It does include some titles that never made it to the US, or are long forgotten. I like it.

The Anime! Movie Guide by Helen McCarthy, The Overlook Press, 1997, $17.95. An English view of Anime, from the former editor of the now defunct Anime FX. Not exhaustive, but includes a lot of stuff not normally available in the US.

The Complete Anime Guide, 2nd ed., by Trish Ledoux and Doug Ranney, Tiger Mountain Press, 1997, $19.95. Only lists stuff available commercially in the US.

The Anime Companion by Gilles Poitras, Stone Bridge Press, 1999. An encyclopedia of all those strange things you see in anime.

The Erotic Anime Movie Guide by Helen McCarthy and Jonathan Clements, Titan Books, 1998. Includes a lot of info on NON-erotic anime, so I include it here. Includes a listing for Little Witch Sally, which was still playing on Italian TV when I visited Ravenna.

Hayao Miyazaki, Master of Japanese Animation, by Helen McCarthy, Stone Bridge Press, 1999. Doesn't cover all of the works of Ghibli, just the ones Miyazaki worked on.

Anime from Akira to Princess Mononoke, Experiencing Contemporary Japanese Animation by Susan J. Napier, Palgrave, 2001, ISBN 0-312-23863. I haven't read this since I just bought it, but it looks interesting.

Anime Explosion, The What? Why? & Wow! of Japanese Animation by Patrick Drazen, Stone Bridge Press, 2003, ISBN I-880656-72-8.

Adult Manga by Sharon Kinsella, University of Hawaii Press, 2000.ISBN 0-8248-2318-4

Dreamland Japan, Writings on Modern Manga, by Frederick Schodt, Stone Bridge Press, 1996. This book is of course a follow on to:

Manga! Manga!, The World of Japanese Comics, by Frederick Schodt, Kodansha, 1983.

Takarazuka, Sexual Politics and Popular Culture in Modern Japan, by Jennifer Robinson, Univ. of California Press, 1998. You can find this at a place such as Kinokuniya or order from Amazon.

Office Ladies and Salaried Men, Power, Gender, and Work in Japanese Companies by Yuko Ogasawara, publ. by University of Calif. Press, 1998. Available from the Univ. of Calif. Press website.

Survival in the Office, the Evolution of Japanese Working Women by Risu Akisuki, publ. By Kod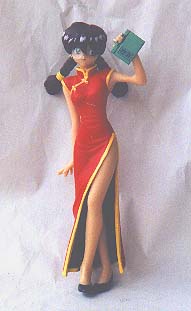 ansha, 1999. I've seen five volumes. Bilingual manga can be ordered from Kinokuniya and Asahiyas now seem to stock all volumes. There are 14 or more volumes in the original Japanese. These little books are really cute and funny.

Reflections on the Way to the Gallows, Rebel Women in Prewar Japan ed. by Mikiso Hane, University of California Press, 1988, ISBN 0-520-08421-7. Those aggressive anime heroines have a foundation in recent Japanese history. Women in Japan demonstrated, were tortured, imprisoned, and executed for their beliefs, remaining defiant to the very end.

AnimeFantastique was a quarterly publication from the same people who bring you CineFantastique. Started Spring 1999 issue which was out at the end of 1998. Included non-Japanese animation such as Prince of Egypt. Long articles on Captain Tylor. Unfortunately, this periodical folded after only four issues, but they were good issues.

Manga Max started in Dec. 1998, but issue one is actually issue 47 of the former Manga Mania, an English publication. In spite of the title, contained anime and Hong Kong film info. Nothings seems to bother the English, perverted sex or blasphemy, but don't you dare say anything positive about Nazis! Unfortunately, this one is out of production as of issue 20. Back issues are worth finding. Back issues of Anime UK (which became Anime FX) are also worth it, but difficult to locate and very expensive. The English have always had the best hobby publications.

Old periodicals to looke for include Animenominous, Animag, and VMax. Anime UK (later Anime FX) was a classic and back issues on ebay are worth getting. (12-7-2003)

Animerica is an old standby, but I stopped buying it for a while since it got fairly boring. Articles lack the depth or interest of other periodicals, but it has been improving. Sort of the "Time" magazine of the anime world. More Viz stuff online at www.viz.com.

Protoculture Addicts is a wonderful French Canadian publication . The release schedule seems to random, but this is a must buy. Probably the best English language anime periodical. (11-02-2002)

The American version of Newtype seems to be surviving. Issue zero, produced by ADV, was being given away during cons in 2002. Starting with issue 1 an independent company is supposed to be producing it. Comes with a DVD and it is not cheap! Even an annual subscription is nearly $100. However, it does seem to have plenty of content. My experience with the subscription service has been terrible, and I probably won't renew. I'll have to buy it through a comic book store or Tower Records.(12/7/2003)