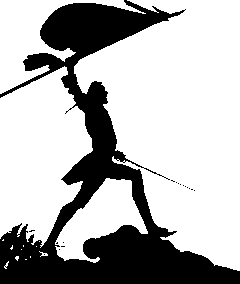 (definitely under construction!)


Well, in a lot of anime related websites there are lists of the top 10 babes or whatever. It's time this was balanced out by some attention to that more boring pair of chromosomes. This is going to be a challenge. Most male figures (outside of the pretty boy genre) aren't very interesting or inspiring, so we'll have to make do. There are just too many Shinji Ikaris out there in anime land.

From the World of Anime and Manga, Western Comics, and the Movies, here are some obvious choices:
Tetsuwan Atom Osamu Tezuka's little robotic boy whose Western name is Astroboy. Hero to millions of American children who are now in their 40s and 50s. Few know that he fought against American imperialists in Vietnam.
The Baron and Muta from Whisper of the Heart and The Cat Returns. The Baron turns out to be a feline Errol Flynn while Muta is a good guy version of Beat Takeshi.
Captain Harlock is Leiji Matsumoto's Byronic hero who has lost everything, but continues with the good fight. As with any mythological entity, there are many contradictory stories of his past and his origins. There's actually a dynasty of Harlock heroes, spanning time and space. Harlocks may perish, but they always die trying.
Ikuroo from Baoh, the doomed boy who takes on a secret American/Japanese biological warfare agency.
Archer and Armstrong from the original Valiant Universe. Armstrong is the cynical immortal who's seen it all and Archer is the endlessly reincarnated do-gooder who never quite loses faith in Armstrong.
Mokoto from El Hazard seems to be an all-around nice guy who isn't completely a wimp. Anyone who's not afraid to go toe to toe with Ifurita has to be a hero.
Micky from Area 88 is an ex-F-14 pilot who befriends Shin. Unlike Shin, Micky realizes that he doesn't belong in the normal world since he's become a cold-blooded killer after seeing too much combat (yes we know, F-14s didn't fly in Vietnam.) Instead of returning to his wealthy background and fiance, he becomes a mercenary. Nevertheless, he is Shin's loyal if fatalistic friend. With someone like Micky at your back, you're covered.
The pilots Pomru and Daro of Dynamo Joe, a giant robot series from the long defunct First. Pomru is a slightly confused feline and Daro is an outcast genetic superman. They're an odd-couple team in a war against alien invaders.
Usagi Yojimbo, Stan Sakai's rabbit alter ego of Toshiro Mifune.
Solomon Kane, as realized in the comic book version. Someone put together a chronology of his career.
Ikuroo from the anime and manga Baoh, who doesn't hesitate to rush back into the hell of Doress to rescue Sumire.
Yakumo from 3X3 Eyes, who transfroms from transvestite waitress to a determined warrior who no longer serves Pai just because he's her zombie.
Asuka Kano, the hero from the old manga Xenon. Another young boy who's been transformed into a warrior cyborg against his will. The translated manga is still available from Viz.
Lupin III as interpreted by Miyazaki. Although a master thief, he behaves more like a knight errant in this guise.
Solomon Kane, the conflicted Puritan from the era of Sir Francis Drake.
Supai-ku (Spike) Spiegel from Cowboy Bebop. In an interview Yoko Kanno said that Spike acts like a typical Japanese male (who are apparently back in fashion with young Japanese women), explaining nothing, expecting you to follow and watch.
Manuel Artiguez from Behold a Pale Horse, as played by Gregory Peck. A fighter on the losing side in the Spanish Civil War, he keeps up the fight as a bandit making raids from France back into Franco Spain. A priest visits him to tell Manuel that his mother is dying. Even after he learns that his mother is dead, he makes the one last trip back to Spain.
From the pages of History:

We're going to stay away from the easier choices and pick a few that are are a little more obscure.
Gylippus is a character out of the The History of the Peloponnesian War. An ancient precursor of Lawrence of Arabia, whom the Spartans, at the urging of turn-coat Athenian Alcibiades, sent to aid the the nearly defeated Greeks of Syracuse who had been invaded by Athens. Gylippus turned Syracuse into the Vietnam of Athens. After this triumph, Gylippus disgraced himself by embezzling.
T. E. Lawrence, the very troubled Englishman who lived out his fantasy aiding the Arabs against the last remnants of the Ottoman Empire. A friend of Shaw, he liked wearing uniforms and riding Brough motorcycles, as well as being whipped.
300 Spartans led by King Leonidas who fought the delaying action against the Persians at the Hot Gates, and then stayed to the last man for the honor of it. A larger group of Thespians stood with them and also perished.
Brasidas was another Spartan general who cast himself as the liberator of the peoples oppressed by the Athenian Empire. He died knowing he'd won the battle.
Johann Tilly, General of the 30 years war on the Catholic side, the Monk in Armor. After many successes, he was set up for a fall by his masters. He lost control of his army at Magdeburg, resulting in that city's total destruction.
Count Belisarius, perhaps the greatest general in all of history. Although Rome was lost to barbarians, for a brief moment it was reclaimed by a group of Greeks and Slavs who considered themselves the legal heirs of the true Roman Émpire. Against overwhelming odds, Belisarius accomplished the reconquest of the West. Robert Graves wrote a novel about him. Belisarius apparently still lives on in a lot of science fiction and fantasy stories as well as in RPGs.
Don Juan of Austria, the hero of Lepanto. He triumphed in the last great contest between cross and crescent, but lived beyond his time in spite of dying young. Don Juan shows up under a new name in one of Fred Saberhagen's science fiction Berserker stories, The Stone Place.
Alan Turing, the brilliant British mathematician who was one of the fathers of computers as we know them (the Turing Machine) and who helped break the German codes during World War II. His government rewarded him by arresting him and disgracing him.
Jacque de Molay, the last Grand Master of the Knights Templar who recanted his forced confession at the last minute so he could be burned at the stake.
Sir Richard Francis Burton lived the life of a hero, but was never quite one. He missed out on discovering the source of the Nile, but translated a lot of books. A swordsman who never fought in a war, a debauchee who married a fanatic catholic beauty, Burtion is as enigmatic as Lawrence.
Eric Fisher Wood didn't surrender with the rest of his regiment during the opening of the Battle of the Bulge. He headed towards St. Vith, but didn't make it. He did organize a band of American guerillas which harried the German rear until they were all hunted down and killed to the last man. Wood was probably the last to perish. Belgian civilians found his body surrounded by the corpses of seven Germans he took with him. Leonidas probably would have been honored to have Wood at his side. The story of Wood has never been verified by historians as far as I know, but that really doesn't matter.
General Oliver Smith, commander of the 1st Marine Division at the Chosin Reservoir. One of the few officers to refuse to take orders from his incompetent superior and get away with it. The Marines still take pride in his insubordination.
Rear Admiral Tanaka who commanded the Nezumi, better known to the Americans as the Tokyo Express, during the desperate battles for the Solomons. His high speed transports (aka destroyers) armed with the infamous Long Lance torpedoes knocked out four American cruisers in one night. Fortunately for Tanaka, one of the few brilliant Japanese commanders, he was too outspoken and his idiot superiors beached him for the rest of the war. He survived to write an article for the Proceedings of the Naval Institute. Skill means you get benched.
On the other hand, common wisdom says that Admiral Dan Callaghan would have been court martialed if he had survived the first night of the Naval Battle for Guadacanal. Instead, he was posthumously decorated. I read an interesting article in the above mentioned Naval Institute Proceedings that proposes that it was fortunate that Callaghan, formerly a desk officer and aide to President Roosevelt, didn't know what he was doing. If he had known what he was doing and followed accepted American tactics, his fleet would have been blown apart by Long Lances. Instead, he blundered into the Japanese fleet at point blank range, negating the advantage of the deadly Long Lances and careful training of the Japanese crews. Luck is more important than skill.

From Literature

This shouldn't be too hard, but then again...
Daniel Doyce, the good guy engineer from Little Dorritt
Wilfred of Ivanhoe returns from the failed Crusade much like a Vietnam vet, to no honors or rewards. He's betrayed his heritage and abandoned his fiance to pursue a failed glory. One of the few who rides to the rescue of a maiden in distress and actually pulls it off without a hitch, except he gets stuck with the wrong girl in the end.
Sherlock Holmes, the Great Detective. The British Empire is safe as long as Mycroft and Sherlock are on watch. Freckled red haired maidens named Violet are especially safe in Sherlock's care.
Pip wasn't much of a hero, but at least he's one of the few Dickens heros who actually lifts a finger to help the plot along. His bungled attempts to save Magwitch and Miss Havisham get him some credit.
Sydney Carton As Lincoln said, Give me more alcoholics!
Lord Frederick Verisopht from Nicholas Nickleby, as interpreted in the RSC production. He goes to his death knowing that no matter the outcome he has won and that Kate is safe.

Dickens' characters page

Project Gutenberg
On-line Books digital library







Last Update: December 29, 2004
Web Author: Doug Ikemi