E-Boat

Revell Germany has released a 1/72 kit of a S-100 class, skull cap, Schnellboot, the type that actually saw combat. The model is made in Korea, so it's probably of the same quality as the Korean made Type XXI U-boat, which is a good thing. The S-100 model has already received numerous reviews on the Internet, and there are move E-boat websites out there now. The model can be purchased over the internet and it is reasonably priced compared to the Airfix model.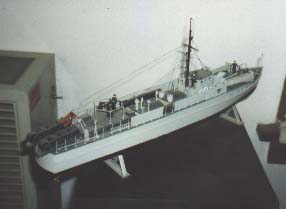 This 1/72 kit from Airfix is very impressive. However, it is of an early model E-Boat that didn't see action. Combat E-boats were much more heavily armed, lacked masts, and came to have armored bridges.
The German Schnellboote were faster, better armed, and more seaworthy than Allied PT boats. Their diesels, especially the big Daimler ones, gave them range and performance. (I think I saw one of these diesels in the Mercedes Museum in Stuttgart.) 38 knots fully loaded for combat was possible. German torpedoes were the best, and the handful of E-boats were probably one of the most cost-effective German investments for the money. Even near the end of the war, when they were obsolete, they could cause such havoc as the Night of the Bloody Tiger. Their armament was constantly increased, including 40mm cannons and sometimes even quad mount 20mm. On some boats the bow armament was abandoned, but it's not clear why. Most modern patrol boats are descended from the Schnellboote. The English called the S-boots Enemy Boats or "E-boat" for short.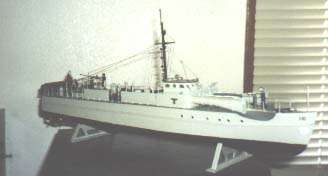 German Coastal Forces of World War Two by M.J. Whitley, 1992, Arms and Armour Press. Unfortunately, out of print according to Amazon.
Germany's Big Gun Navy at War from the editors of Sea Classics, Sea War Special, Vol. 2, No. 1, 1995, p. 22, Schnellboote by Wayne Zimmerman. Lots of photos if you can find it.
E-Boat Alert : Defending the Normandy Invasion Fleet Amazon.com blurb on this book by James Tent, Naval Institute Press, 1996. Does have some good photos showing the armored skullcap bridge.
NTSC video available from Belle & Blade, Stukas of the Sea, German Speedboats in World War II English documentary with lots of footage of E-boats in actions, launching torpedoes, stalking convoys, and more. Includes interviews with former crew members. Good views of E-boats at sea and how they appeared when planing over the waves. In one interview a crewman comments on how he was amazed that the diesel engines were dead reliable and always performed even under the most adverse conditions.
S103 wreck German page on scuba diving this wreck
A Case PlaceThe ship gallery has good photos of a 1/32 museum model of an E-boat.