My Travels 1999 and Before


For a vacation this year I flew to AWA99 in Atlanta, Georgia. After the Convention I drove to the Naval Air Museum at Pensacola, Florida. Then it was on to the Ringling Museum in Sarasota and on to visit my friends in Coral Springs via Gator Alley. Through the rain I plugged on to Orlando and the Flights of Fantasy air museum. Fleeing from Irene, I went to the Anime USA convention in Virginia instead of Charleston, which wouldn't have been a good idea at the time. After that I went to the Holocaust Museum in D.C. and the Smithsonian Garber Facility just outside. Don't forget a trip to the great Ainu exhibit at the Smithsonian Natural History Museum. In Baltimore I visited my relatives and saw the Walters Gallery in Baltimore. In New York I finally made it to the Cloisters and after three tries I made it into the Guggenheim, my third one after Soho and Venice.

August 1, 1999 I returned to Mt. Whitney, leading a group from the Hughes Hiking Club up there. Planning this trip and the three training hikes took up all of my time up to that point. Those hikes included Iron Mt., Mt. Baldy, and Sawmill Pass. Actually, the first time we didnŐt make it to the top of Iron, so I went back and did it solo. Also got out to the San Diego Comic Con, also taking in Ringing Thunder at the San Diego Museum of Art and Cymbeline at the Old Globe. I had to cut the Con short to get back to Japanese class and to see the Nisei Week Parade. Earlier in the year I went to Anime Expo in Santa Ana and Fanime 99 in San Jose.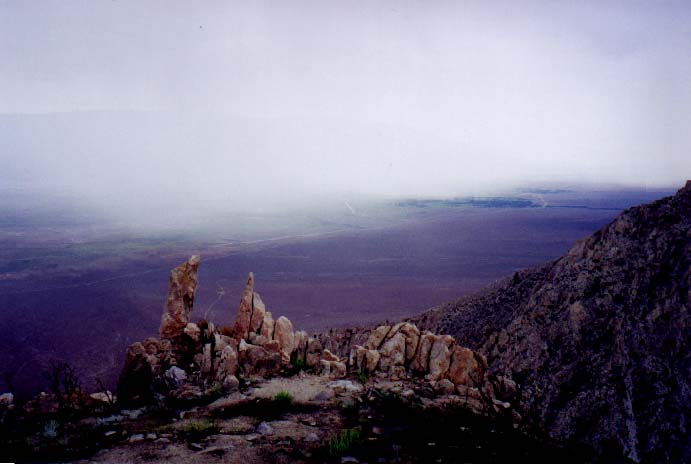 Photos from the hike up Sawmill Pass, 1999.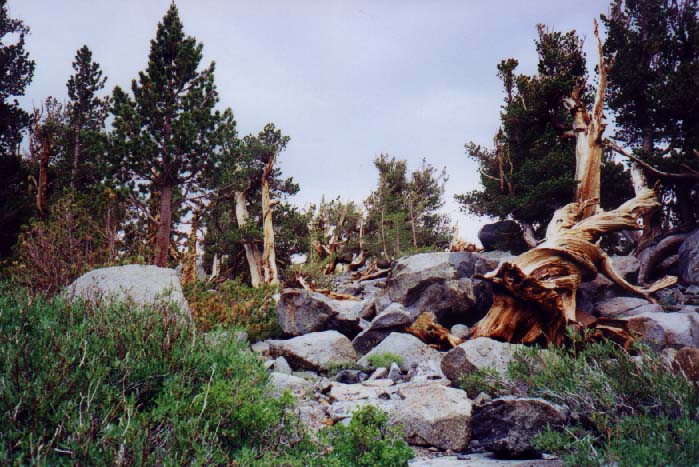 I've been making the rounds of various ethnic AP festivals, such as Thunder and Silk at Mt. SAC and the Monterey Park Cherry Blossom Festival. I went to the New Year's celebration at Weller Court in Nihonmachi (LA Little Tokyo). Here's a shot of the taiko performance that was part of the opening ceremonies.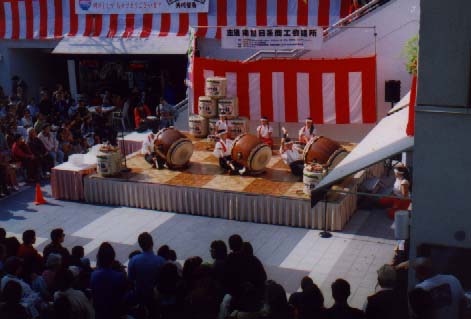 I also got to see how those fish shaped pastries are prepared that you see All-Purpose Cultural Cat Girl Nuku-Nuku eating.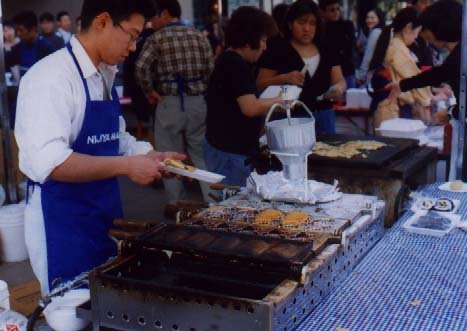 Don't forget mochi making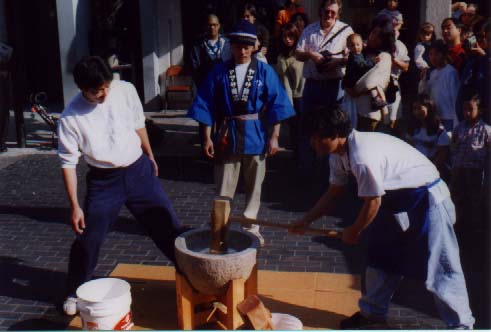 Right at the end of the year I went to the China Expo at the LA Convention Center. Not that much there, but here are photos of a Chinese harp, which looks the same as the Koto, and some go-go girls trying to sell cars.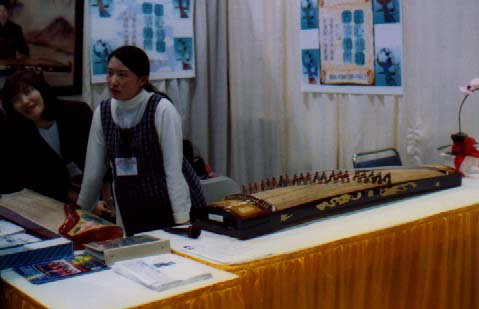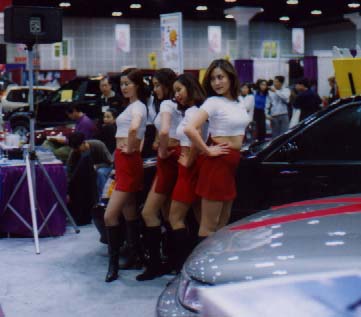 The big event for 1998 was motorcyling through the Alps and going to Venice. I went on a number of interesting hikes in 1998. July, 1998 I just got back from Comicon in San Diego. The best thing was the lecture on graphic design by Bryan Talbot. Got to see Colleen Doran speak. Jeff Smith told his Kevin Smith joke too often and his session looked like a big merchandising promo. On the other hand, Terry Moore seemed to be refreshingly sincere.
I went to Anime Expo in Anaheim over the July 4th weekend. "Dog of Flanders" was great but definitely a three hanky affair. Below are a couple of photos from the Expo.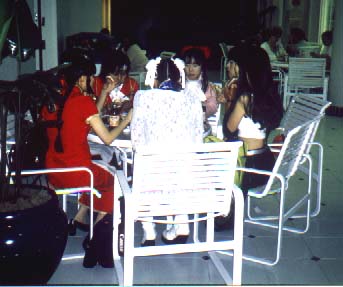 Genuine Nihonjin girls dressed as some of their favorite characters at Fanime 1998. This group had more than one set of costumes. I guess they get pretty obsessive over there.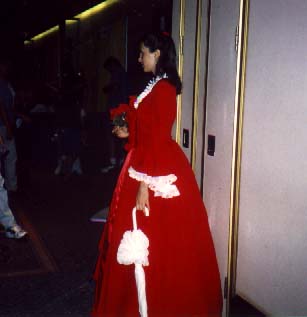 Magnetic Rose cosplay at Fanime 1998.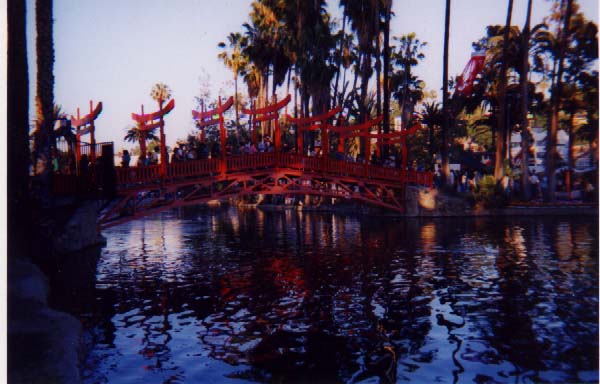 The bridge at the LA Lotus Festival 1998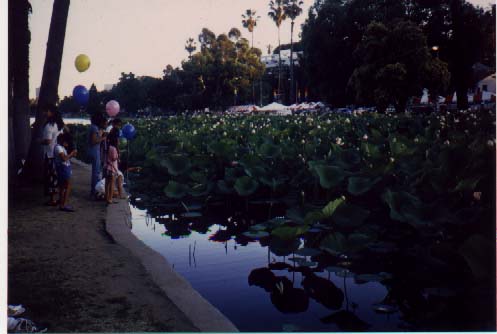 What lotuses look like.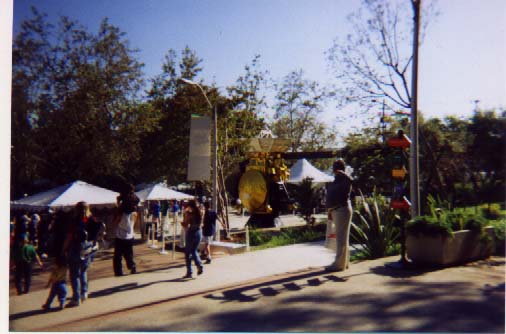 JPL Open House, 1998
In 1997 I finally made it to Turkey. See the photos.
In 1997 I climbed Mt. Whitney for the first time, after a series of training hikes up San Gorgonio, Baldy, etc.
In 1996 I visited Ravenna, Italy after a hike through the Swiss Alps.