Anime Titles
www.ikemi.info/anime_titles.html






This will be a list of some of Japanese animations, movies, OVAs, and TV series that I happen to like and what little I know about them. I won't bother commenting on the films of Miyazaki because there are some very nice web sites on his films. Films such as Totoro and Whisper of the Heart rank in my top 10. Spoilers ahead.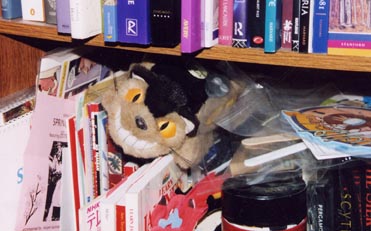 Here are some descriptions of animated films I had some interest in
Some day I'll add links for all of them. Some Spoilers ahead.

I also have some comments on anime heroines at

Princesses

.
Abenobashi Magical Shopping District. The guys from GAINAX go completely out of control in a 13 episode series that will never be shown on American broadcast TV. A run down shopping district turns out to be the hitherto sealed gateway to parallel dimensions. Early teen boy and girl are get lost among the dimensions and try to find their way home. The first episode looks relatively save but after that good taste is thrown to the winds and there is sure to be something to offend everyone. Recurring characters among the dimensions are a mysterious hooded man, a trouble-making goblin, and a Kenji Tsuruta girl with half frame glasses and an extremely large bosom who seems to be a little opportunistic (No Spirit of Wonder here.)
Animated Classics of Japanese Literature. Some of these are really good, although the complaint has been made that the animation is rather basic. Some of these are finally coming out on DVD. (2-28-2003)

A Roadside Story
Asunaro Story, The Story of Koyasu Dog
Botchan
Tale of Shunkin, Friendship, I read the book and it's pretty intense.
Harp of Burma , Parts 1 and 2; I also have the book and there is a live action movie . One of my favorites.
The Wind Rises; The Fruit of Olympus
The Martyr; The Priest of Mt. Kouya
The Incident in the Bedroom Suburb; Voice from Heaven
All Purpose Cultural Cat Girl Nuku-Nuku Three tapes in translated (subtitled) American release. Another combination of military robotics and and a cat. Middle tape has some fan service, although at least it's related to the plot. In general, however, Nuku Nuku is an idealized older sister, except for the bicycle incident. There is a later different treatment of this story that is sort of sick in which N-N becomes a lust object for an older version of the little boy. There is also a TV series that seems to have been cleaned up, but is still pretty insane. The original is finally coming out on DVD and has aged well. (2-28-2003)
Angel's Egg. This is very Artsy Stuff. Almost no dialog. Worth a watch. From the same guy who brought you Beautiful Dreamer. I remember seeing this on channel 13 (or was it 28) in LA when I was little. (5-11-2003)
Area 88, all 3 tapes. I don't know why I'm addicted to this. Can't Viz finish translating the Manga? The first tape recently was released as a DVD. In the anime Shin decides he likes the manly life of combat and like his American buddy realizes that he can't exist in the civilian world anymore, abandoning his long suffering girlfriend.
Azumanga Daioh is as good as they say. However, you have to wonder if Chiyo is going to suffer from brain damage after all the times she has been hit on the head. About half way through the series it looks as if they decided they needed more than 4 panel gags and started adding in some really beautiful art work and lyrical scenes. This is a show for people who love dogs and hate cats. There is also a Spirited Away theme with a young girl who has her name stolen. This will be released in the US(5-11-2003)
Bakuretsu Hunter out on DVD. They say if you watch enough episodes it has a plot. Series is redeemed by Carrot occasionally acting in a gallant fashion. The last 5 or so episodes get very serious and there is little to laugh about. Sort of like Fushigi Yugi at a similar stage. Everyone dies in the end, for at least a while. Big Momma in a business suit?
Baoh. Again, this one is on the bloody side, although the alliance between the doomed teenage boy and the clairvoyant preteen is touching. The fate of Shumire makes it watchable. The boy sacrifices himself to rescue her and destroy the government biological warfare research organization that has victimized them. This organization is supposed to be the same as the notorious WWII unit 731 and connects the Americans with it. This anime demonstrates that not all of the Japanese have suppressed their memories of this war atrocity. DVD now available
Barefoot Gen. Too intense, but a classic. The aftermath of the bombing of Hiroshima as experienced by a little boy. Based on the autobiographical manga.
Black Magic M-66. Never figured out the manga, but the anime has a plot. Killer androids run amok, ironically pursuing their creator's daughter.


Blue Sonnet, Two VHS tapes. From the earlier days of anime, another doomed psionic cyborg tale with evil Americans. The story ends on an uncertain note with Blue Sonnet starting to really doubt her mission. The heroine is a brutalized victim of the slums who is transformed into a killing machine by an evil American corporation.
Blood, the Last Vampire is a really short movie that doesn't have much backstory, or plot for that matter, but is fantastic to watch. I wouldn't buy the DVD, but you should watch it in a theater if you get the chance, just like the new version of Vampire Hunter D. See it with Jin-roh and you'll never be happy again.
Blue Submarine No. 6 was meant for DVD. I've seen all six episodes and this story is a must, combining CG with cel animation of the characters. The creators claim they wanted to create a simple minded boys' action adventure story, but the themes seem to be much more complex and richer than that, and there is an intense talking heads scene in the last episode. The combined CG/cel technique works well here and in Sol Bianca, but didn't come off in Titan AE. I propose that this is the prelude to Yokohama Shopping Trip.
Chobits Finally a story from Clamp where the guy looks and acts like a guy. Boy picks robot (persocon) out of the trash and adopts her. I've seen the first 4 episodes, but the design for Chii is very original. The untranslated manga has 5 volumes and there are translations available on the web for the 1st volume plus a little more. Tokyopop is now releasing their version of the manga (10-20-2002)
City Hunter, some episodes. Contrary to what some people claim, Kaori does kiss her partner in one of the TV episodes. This series has a strange charm after a while. The mokori tendencies of Saeba are balanced by Kaori's prudishness. The series bounces back and forth between very serious cops and robbers and slapstick with extreme animation styles. Although some people didn't like it, I appreciated the device in the movie of rendering Ryo in different styles depending on his mood (total jerk vs. cool operator.)
Cowboy Bebop I sprung for all six DVDs in one expensive shot. Episode 5 is the best, as everyone says. The story is more straightforward than expected. I was waiting for some big plot twist or revelation at the end, but there aren't any cosmic implications in this story. The ending is tragic and very noir. At least the kid and the dog leave and don't see what happens to Spike. Jet and Fay have their characters develop and they learn something about themselves, but Spike never changes. In that sense he is more like a Hemingway character. Any insights he may have gained happened before the story started. He's a man following an obsession and everything else along the way is incidental. We do get to see Edward in a smock in one episode and she is darn cute. Actually, although I haven't done an A/B comparison. I think they started rendering Edward cuter towards the end. Okay, where's that Bebop movie? I almost got to see it at the UCLA anime club, but I had to attend a reception that night!! I tried again at the Egyptian in LA and it was sold out. The movie isn't a reprieve for Spike since it takes place somewhere in the middle of the TV series in the same continuity(8-12-2002)
Dagger of Kamui, one great apostate ninja movie, including a trip to Catalina Island. Most of the character designs aren't that original, but check out Kamui's sister. A different set of artists must have worked on her. The portion of the manga translated into English concentrated on a different part of the story. (4-7-2002)
Desert Rose, 1 episode I've seen.

Dominion Tank Police DVD. More robotic cat girls. Also have the second series on tape, including the last tape. Another dystopic future by Shirow. This one is a little more understandable than most of his stuff. The world is doomed, but no one seems to care as long as they can field some high caliber ordnance. Leona in a Bunny suit? The story is continued in the Manga, with the Puma Sisters eventually joining the Tank Police, much to Leona's dismay. The second half is only available dubbed. (4-7-2002)
El Hazard Anime:

El Hazard OAV . Ifurita, yes. That's all you need to know. Also have the 2nd OAV series, which features another Ifurita. We find that they were a generic weapon. This Ifurita is a good guy, which is just as well because we learn that there were even worse weapons and the bad guys have them. The Ifurita design pops up in the new Bubblegum Crisis.
El Hazard, the Alternative World, DVDs 1-4 for a 3rd OAV series. This one is highly disappointing and the 13th episode is downright perverted. It was a special episode created after the TV series ended. One gets the feeling that things had to get wrapped up very quickly at the end, including both the plot and art. But then, why did they waste the time and resources on that awful 13th episode?
The Wanderers, tapes 1-7 El Hazard cleaned up for TV, sort of. At first I thought that this was a poor cousin, but it's actually pretty good if you watch it all the way through. There's a lot more background info on the priestesses and Alielle is an almost heroic figure who has a schoolgirl crush on Shayla-Shayla. The Jinnai-Nanami sibling rivalry angle is pretty funny. Much nicer to watch without the perverted fan service. This Ifurita makes a good buddy for the princess and it's a pity that she has to stay with the Bugrom. This series is on DVD now. (10-20-2002)

Escaflowne ! Another one you have to get on DVD (8 total). This is great stuff! Shoujo meets giant robots! The movie version that just came out is sort of a readers' digest version of the TV series in a different continuity. Most of the characters are still recognizable except for Millerna! The DVD for the TV series looks great and you must go buy it. (8-12-2002)
Excel Saga, distributed by ADV. Any series that does a respectful homage to Leiji Matsumoto is okay with me. Maetel appears under the name "Tetsuko", or at least half of her appears in one episode. The rest of her is inside of an Anaconda. The other reason for watching this totally off the wall series is the sweet Princess Hyatt who is always dying. Of course, you would never want to meet the psychotic, deluded, and inept Excel herself. If you're a sadist, you'll enjoy watching what happens to Menchi, the dog/emergency food supply. I've only seen the first four episodes. (10-20-2002)
Takahashi Rumiko anime:

Fire Tripper, more time tripping from Takahashi.
The Supergal (Maris the Chojo), Takahashi in a science fiction mood. The Takahashi universe is relatively simple with boorish, stupid males and women who have super powers, such as super strength, immortality, or the ability to give electrical shocks. This time the heroine has overt super strength, but no cash.
For me, Ranma started to become very repetitive. Maison Ikoku I would like to get on DVD some day.

Five Star Stories Unless you're familiar with the manga, this is totally confusing. Fortunately, a beautiful manga edition is being published in English. You can buy it from Kinokuniya.
Frankenstein, yes an anime version on VHS. It's actually not too bad. Strong Christian overtones. Someone actually wrote me about this one.
Fushigi Yugi, a few episodes, the OAVs. Seen the beginning and the end. I don't think I need to see all of the middle. Yui is my favorite.
Galaxy Express 999 stories and the Reijiverse I saw GE999 at the Nuart 30 years ago and was absolutely floored. I wanted to know more about this style of movie. It took me a while, but...

Galaxy Express 999 The original movie. An animated Catherine Deneuve dressed for the snow country totes her mysterious suitcase as part of an extreme Elektra complex. The GE does seem to have been borrowed from Cordwainer Smith and Kenji Miyazawa. This is the second greatest anime ever made. Where's the DVD? Some have nominated the scene in which Maetel betrays the hero as one of the great scenes of anime.
Adieu Galaxy Express 999. The second movie. That machine world just doesn't want to give up. Mom still thinks she knows what's best for her little girl. A new anime is coming out in America developing the early days of sisters Maetel and Emeraldas, that's only hinted in this video. See below.
New Galaxy Express 999, Japanese only. Corresponds to what's being printed in Viz.
Maetel Legend from CPM fills in the gap between Queen Millenia and GE999. This DVD is worth the money if you're a real Matsumoto fan. I know it got some bad reviews, but it's great seeing Maetel and Emeraldas as young girls. The tragedy is seeing the wonderful heroine of the Queen of a 1000 Years, along with all of her subjects, transformed into the monster we know in the GE999 movies. We also get the background on why Maetel is so ruthless and has hidden agendas within hidden agendas. This one delivers if you're a Matsumoto fan. (6/22/2002)
Galaxy Express 999 Original TV series. I first saw this on TV in Italy. It still looks pretty good. I found that it was fansubbed into English. It's still a good series after all these years. We get to see how dangerous Maetel really is. (5-11-2003)
Queen Millenia is the seminal Matsumoto film in which the themes and archetypal characters are introduced. I was watching the movie at the Baltimore Otakucon in 2001 and the tape broke right before the end. I finally did get to see the end courtesy of Corn Pone Films. This was both a TV series and a movie. In the US it was also spliced together with a Harlock to make another Robotech style hybrid. (10-20-2002)
Harlock Saga is really weird Reiji transposed to the world of Wagner. Echoes of Queen Millenia.
My Youth in Arcadia (Harlock) Thinly veiled version of the American occupation of Japan. Learn how Emeraldas got her scar. Classic Leiji. Short version of Endless Road SSX. (8-12-2002)
Capt. Harlock TV, 2 episodes dubbed on VHS. This one takes place after Emeraldas has her kid.
Endless Road SSX The first three episodes of this TV series look great. This one is roughly a TV version of My Youth in Arcadia. (8-12-2002)
Queen Emeraldas DVD rescues the inhabitants of a desert planet.
Cosmo Warrior Zero released by Anime Works. It first looked a little strange, but after the first 5 episodes I'm getting into it. This takes place after the Machine People have beaten Earth and a human officer agrees to hunt down Harlock for them. (10-20-2002)
The Cockpit, English import. Real Reiji and a must for modelers. Skip the science fiction veiling, let's set it right in World War II with Axis heroes. There's a domestic version now, but not yet on DVD. If you're into FSM, there are some good details shots of the inside of a Betty and its cannon mounts. Three unconnected short stories of manly tragedy.

The Girl from Phantasia, no, not porno. Actually very cute. Too bad there is only one episode over here. Cute magical girl is imposed on a male student who doesn't want anything to do with her. Also a manga which has quite a bit of story I've heard. (8-12-2002)
Ghibli/Miyazaki films




Ann of Green Gables was a long running TV series that takes us through most or all of the Ann books. .I haven't seen it (up to episode 9) all but the art work and music are very nice. Only available on HK DVD as far as I know.(5-24-2003)
Conan Future Boy, Japanese only. Early Miyazaki and company. Translated script is available on the Net; see the Miyazaki Web. You can find the tapes at Japanese language video rental shops. The entire series can also be found on subtitled Hong Kong DVDs at a place like Super Collector. I normally don't recommend buying these HK DVDs, but this is probably the only way you'll ever see this.
Only Yesterday, OL blues from Ghibli. Very nice.
Castle Cagliostro DVD version! A must. Better, go see it in a theater if you ever get a chance. This one just doesn't age. Lupin Sansei in a chivalrous mood. Includes Miyazaki's only blue-eyed heroine. Monkey Punch wasn't much happy with the Miyazaki interpretation of Lupin. Fujiko is also comparatively restrained here.
Tanuki Wars Pom Poko, I don't know how Disney is going to release this one. This one has about the strongest eco message.
Porco Rosso, yes, a red pig can be romantic and was a very popular cosplay subject at F2K. Disney needs to get this out. DVD for R2 with English subtitles is available at places like Kinokuniya. Understanding that this was Miyazaki's personal statement on middle age makes this one more understandable, especially if you're a middle aged male. Marco, after watching all of his comrades die and the world dominated by fascists, sees himself as no longer human, but a pig, a severe form of alienation, he only overcomes in a rare moment with Gina. (10-20-2002)
Princess Mononoke Another $50 Japanese tape, but the DVD is out now. Looks fantastic. Lady Eboshi is one of Miyazaki's best heroines. (10-20-2002)
Kiki's Delivery Service, collector's subtitles as well as Disney dub. I also had the early dub, but I gave it away. The original books can be ordered, but haven't been translated yet. Eiko Kadono, the author, has an English version and she is looking for a publisher. Also available in luxury Japanese R2 DVD with English subtitles. (8-12-2002)
Laputa, Castle in the Sky Classic Ghibli, soon to be released by Disney, but definitely with a different title. Finally out from Disney as an R1 DVD without a theater release.(4-23-2003)
You Can Hear the Sea A Ghibli made for TV movie that is excellent. Standard sort of dysfunctional teenage love story. Also made as a live action movie.
Grave of the Fireflies from Ghibli; this hurts too much to watch. This is as much of a downer as Dog of Flanders, but also just as excellent. Two orphans starve to death in postwar Japan. American DVD is available and I think a remastered version is coming out. (8-12-2002)
Nausicaa, seen subbed and as a genuine $50 Japanese tape. This is another must-see and should be on everyone's top-10 list. The manga is even better, but is darker and much more complicated in both plot and themes. The rescue in the air is one of the great scenes in anime.
Whisper of the Heart (If You Listen Carefully, Mimi wo Sumaseba) My all time favorite anime. There is also a 2 volume Manga that you can order. There wasn't a sound from the audience when they showed this at the UCLA animation club. DVD for R2 with English subtitles is available at places like Kinokuniya.
Lupin III's Greatest Capers, Catch the robot from Laputa, and one of the heroines is a relative of Nausicaa. Of course, Miyazaki worked on this one.
My Neighbor Totoro Don't need to comment on this one. DVD for R2 with English subtitles is available at places like Kinokuniya. The American version is also out on DVD with only a dub sound track.
Go Panda Go on DVD. More early and delightful Miyazaki. We see some early use of the same symbols he uses in Spirited Away, namely the train in the water.(5-11-2003)
Sherlock Hound is really pretty good. Respectful of the Canon. TV series has come to the US. Sherlock does not look like a hound, thank goodness. Some of the episodes may be named after the original stories, but bear little resemblance otherwise. Still this is a valid interpretation of Holmes and better than a lot of live action versions. Watson as a terrier is a great idea and having a cute young Mrs. Hudson is clever. Moriarty appears, but has some weak spots in this version. In the first volume I haven't seen any references to Mycroft. Miyazaki worked on some of the scripts and his Italian collaborator provided the name for a certain red pig. Being released in America on DVD. (8-12-2002)
Spirited Away is definitely an old man's movie, but when the old man is Miyazaki, that's okay. I saw Panda Go Panda right afterwards and the train in the water motif is repeated. The subtitled deluxe official R2 DVD is available at Kinokuniya, and is going for about $15 less than the other Ghibli subtitled releases. Seeing it the second time at the El Capitan Theater in LA was definitely a treat. Spirited Away bagged the Oscar!!! Out on R1 DVD . (4-22-2003)
The Cat Returns I saw the American debut at the Egyptian, including the live interview with the director, Morita, and producer. This may not be one of Ghibli's greatest, but it is a lot of fun, and very nice to watch. The two cats from Whisper of the Heart return to sweep a young girl off on a Catnapped style adventure. It's Beat Takeshi meets Errol Flynn. (5-11-2003)

Great Conquest Chinese history distributed by the long gone Orion. Kind of made me sleepy.
Grey, Digital Target, Very dystopian future. The manga is also very good, and has more background. The anime is worth watching. It is available on DVD.
Hamelyn no Violin Hiki, episodes 1-16 (there are more, up to 25 that I haven't seen!); Need more! I can see why this is a cosplay favorite. This is a really good TV series in spite of the very basic animation. Has a semi-tragic ending. Protoculture Addicts once published a complete episode summary.
Hand Maid May isn't really as bad as it sounds. This 10 episode TV series plus one OAV is a heart warming story masquerading as hentai. There is some objectionable material in it, but for the most part it looks like someone had to make a quota and isn't essential to the appeal of the story. This is another series that people either love or hate. I wrote an apologia.
Hyper Dolls, both tapes. These are noteworthy because they also include live action sequences including idol singers. For some reason I'm addicted to the manga. I read it for Shoko. The monsters and plot are purposely silly, but the Hyper Dolls are a couple of bored galactic law enforcement androids who amuse themselves by teasing and torturing the working class hero schoolboy. Shoko is his socially unsuccessful, but studious buddy who drinks more beer than she should. Apparently desperate for companions, Shoko courts the friendship of the Hyper Dolls. One of their favorite jokes becomes threatening the hero that they'll murder Shoko by ripping her head off if he reveals their secret. Shoko does lose the Dolls' shopping purchases when they ask her to watch them and Shoko has to pay the price. The anime is out on DVD, but the DVD does not include the live segments.
Hyper Police is a cute 25 episode TV series about a post-apocalyptic future in which mankind has really mucked things up even tilted the world on its axis so that there are no more seasons. The disaster has caused a merging of the world of humans and what the humans thought was the mythical world of monsters. One of these monsters is the charming, powerful, and ditzy cat girl Natsuki, who holds the key to the fate of the world, of course. Sakura is the evil 190 year old fox woman who wants to kill and devour Natsuki to absorb the magic. This being anime, Sakura is also Natsuki's best friend and always ends up saving her. Sort of a G-rated Urotsoki Doji. The number of Hyper Police websites has been growing. This series is being released on DVD in the US. (4-23-2003)
Initial D is more interesting than an anime about Japanese street racers should be. It's really a samurai story on asphalt. Interesting study of working class kids living out their dueling fantasies in dangerous night races in the mountains. There is no attempt to blend very jarring computer graphics for the car races and the very flat and stylized cel art. Great scene in the second season in which the clueless hero driver Takumi finally trashes his car but finally realizes that his girlfriend Mogi is really a ko-girl and tells her off. The manga is being published by Tokyopop in the US in English. (8-12-2002)

Irresponsible Capt. Tylor

, complete boxed set. There are five OAV episodes that are very serious including a movie that sort of wraps everything up. From looking at the laser disc bin a Bunka Do I think there may be as many as 5 OAVs. Okay, the OAVs have been translated and are for sale in the US now. There are 7, I think, and the first 6 are very serious and somber, sometimes melancholy. (OK, someday I'll get the episode count straight.) The art style is also more serious and darker. Yuriko Star I couldn't even recognize at first. She doesn't look like Lina Inverse anymore, but is rendered in a very realistic style. Azalyn is almost a tragic figure. The OAVs are out on VHS and DVD in the US now, and most of them indeed are very serious. The first two that I saw were the best. These are actually the 2nd and 3rd episodes. I still don't like the ending.
Jin-Roh, the Wolf Brigade

is a bizarre Japanese version of the Little Red Riding Hood fairy tale. This film has beautiful art and animation and is totally nihilistic. I saw it in a theater, which is the place to see it. Amazing and completely depressing. In a dystopian future, the Japanese lost the war to the Germans/Nazis and were occupied by them. The resulting landscape is filled with VWs and sinister government organizations warring with each other more than with the revolutionary underground.

Juuni Kokki (12 Countries) is a 26 episode TV series that seems to have a Fushigi Yugi plot, but has high production values, no humor or fan service and is just unrelentingly serious. A big talking mouse is even dead serious. High school girl with a Shinji complex starts taking charge of her life and her demons. I have seen the first 14 episodes and it looks to be really good so far. (1-17-2003)

Kishin Corps

,. Another alternate timeline in which not all the Japanese are bad guys. Eva Braun with a scientist sister? Einstein, too. The Kwangtung Army and Nazis are the bad guys, along with nasty aliens. You have have to get this one on DVD. Very stylized art in spite of a retro style and theme. The nightclub scene is the most interesting one. The narrative line is sometimes hard to follow, but who cares? The DVD is out and worth getting.

Kokoro Library

Victor Entertainment. I've only seen the first four episodes of this 13 episode TV series that hasn't been released in the US as of yet. This is the

Three Sisters

, anime style. This story takes place in some kind of parallel universe where frilly, but modest, French maid outfits are the standard librarian uniform. Sisters Iina, Aruto, and Kokoro live in a large well-equipped library that their father founded. The library isn't in town so they have to work, so far unsuccessfully, to attract patrons. Iina is the cute responsible one. Aruto has short hair, a short skirt, and sleeps most of the day since she works all night at her secret gig of being a famous author. Kokoro is the smallest and probably the youngest one, who has the same name as the library (there are apparently no child labor laws in this parallel universe.) This show has a beautiful look and is the closest thing to Yokohama Shopping Trip. It's hard to believe this show was originally shown on TV in a late night slot.

Then again, maybe that's where it belonged

. (10-20-2002)

Kurogane Communication

from Anime Works is another post-apocalyptic story with Terminator style robots as well as Cordwainer Smith style Menschenjaeger. Until the middle section it's pretty upbeat, but then things get serious. The non-Asimov robots are the conflicted souls in this tale, working out their guilt and their resentment towards humans who ordered them to kill each other and destroy the world as we know it. Especially intense scene when the robots Alice and Lilith are gunned down. This show was produced in half length episodes, which are actually kind of convenient to watch. All three DVDs are out. 7/4/02

Last Exile. Imagine Lain with the voice of Kokoro from Kokoro Library as the navigator of a wingless Vanship caught up in the middle of a ritualistic war on a planet of floating continents. Looks really good. From Gonzo. (4-23-2003)

Leda, the Amazing Adventures of Yohko

. An unknown little gem. In spite of the title and the names of some of the characters, squeaky clean. Music facilitates shifting between dimensions.

Legend of the Forest. Experimental Tezuka with no dialog. Very interesting.

Lost Universe

is actually connected with the Slayers universe. Without knowing any background, I immediately thought Lina Inverse when I first saw Millie, although it's Canal who's actually voiced by Megumi this time. Some people hate this one and others think it's great. I watched some of the episodes on Spanish language TV and it sounded really good. This TV series makes more sense after you've watched all three of the Slayers TV episodes. Starts funny and then gets very serious with the two main good guys maybe dying. The series ending is ambiguous, but the last episode is worth waiting for. Millie turns out to be one of the bad guys, but decides to commit suicide. Just like Lina, she looks good in a skirt when she finally gets to wear one. Whereas Lina is completely manic with hardly ever a doubt about her own capabilities or motivations, Millie is a definite manic-depressant who confesses that she once thought of killing herself-a foreshadowing of the final episode.

Lupin III Dark Order of Assassination

Lupin III, Zentetsu Blade

Macross Plus

Mahou Tsukai Tai

. I fell off my chair watching the OAV. I recently saw a 6th episode at F2K where they do something about the giant cherry tree. I guess that episode is actually the first of the TV

series.

Coming out on DVD, but at only 2 episodes per DVD. The TV series is out on DVD now and is really great with wonderful development of the characters. Nanaka of all people becomes a real witch (the kind who doesn't need a broomstick) as s result of her romantic frustrations. Sae's magic takes androgynous human form as a result of her wishy-washiness. Akane and Ayanojou are shown to have their own problems and weaknesses. (8-12-2002)

Memories

, English import, opera meets anime. You have to see the MTV style video version circulating at cons.

Metropolis, based on Tezuka's 50 year old manga, mixes computer graphics and retro character designs with inspirations from Fritz Lang's Metropolis and Blade Runner to explore racism and the abuse of technology. This film first appeared in the US as a Tristar release in art theaters. Rated as a must see by LA Weekly. Tima will be one of the great tragic heroines. Very complex plot and themes. The DVD is out 6/22/2002

Mighty Birdy (Tetsuwan Birdy)

, complete, but there is no conclusion to the series that I know of. From what I

understand

the original manga doesn't have an ending, either. It's a pity since there are some unresolved scenes in the anime that refer to tragic incidents in Birdy's childhood.

My Dear Marie

. Another android story, but sweet. The Japanese title,

Boku no Marie

, is highly offensive to Japanese women since it implies ownership. Another case where it pays to know nihongo. The series doesn't have a conclusion that I know of, which is just as well because it can only end in tragedy for the metal Marie. The manga version is very close to the anime, except that it is much closer to Shaw's Pygmalion. Hiroshi is a much bigger jerk, or as Marie calls him, a right bastard, in some cases. He has very few redeeming qualities, but he does start to grow to some extent and starts to respect Marie as an individual with feelings and not just regard her as a play toy. He's made to suffer for his emotional immaturity. Marie begins to resent her programming as Hiroshi's version of an ideal girl and begins to rebel, even running away from home. She attempts an unsuccessful romance with a homosexual and feels as much pain or more than Hiroshi does. She's on a voyage of self-discovery from which there is no turning back. More characters are introduced, such a real sister , Lisa, for Hiroshi who is even crazier than he is, and another robot sister who suffers from a bad case of schizophrenia. Thankfully, the author, who I believe is female, gives a complete disconnected episode totally dedicated to the fate of Hibiki, who in some ways is a lot closer to Hiroshi's ideal girl than poor Marie. Hibiki is a great creation and deserves her own story.

Nadesico

,. As in the case of

Joseph Andrews

, parodies start taking on a life of their own. Surprisingly, this series starts getting very serious and quite creative. Watch for Ai-chan. Inez Fressange in real life was a the name of a French fashion deigner. One episode is almost directly taken from a Robert Mitchum movie which was also the source for the first televised episode of the original Star Trek. The movie is outstanding. You have to watch it a number of times to catch everything. The series is now coming out on DVD, but it is missing the funny introductions by the voice actors. The DVD does look good. One of the great scenes of anime is the one in which Ruri Hoshino discovers her whole life has been a lie. Still waiting for the movie, Prince of Darkness, to come out in this country. (5-26-2003)

Nadia

, ADV has produced a new subtitled release and all 10 tapes are out.I wasn't going to buy this series a second (actually third since I bought the Orion tapes) time (I like lying to myself.) This little gem from Gainax has Grandis, one of the all time great Anime Babes. (Never mind that whiny, ingrate Nadia.) The movie is also out on DVD in the US, but it was created by a different team. (5-26-3003)

NieA under 7

is one of the most promising new anime series that I've seen at the 2001 Anime Expo and Comicon. The story centers around a ronin (a student who failed the college entrance exams the first time around, but is going to try again), but this time it's a young blue collar girl, Mayu. There is a sense of desperation about Mayu. She has no family, no money, and she works a series of what we would call minimum wage jobs to try to survive. We even get the sense that she probably will never pass the entrance exams since she doesn't have the time to study. Mayu is socially inept and withdrawn and shies away from whatever chances for social interaction that she has. She wants to get into college, but she doesn't know why. There would be a feeling of hopelessness and an expectation of seeing Mayu swinging from the rafters someday if it weren't for the freeloading parasite roomy NieA, alien, level under 7. Aliens have crash-landed in Japan and have become a part of life. Mayu is stuck with NieA, her emotional opposite and possible alter ego. This is a beautiful series that I'll have to track. Imagine Lain (same people created this series) if she were a real girl, older, and too poor to afford a computer.

Night on the Galactic Railroad The meaning of death. Based on the book by Kenji Miyazawa which is available in English. Some say this might have had an influence on the Galaxy Express stories. The abstract animated biography of Kenji Miyazawa, Spring and Chaos is now out on DVD from Mixx and is beautiful. In real life Miyazawa hated cats. Also check out the book version of Night on the Galactic Railway which is available from Kodansha. A collection of Miyazawa's short stories is also available in English.

Now and Then, Here and There

has to be one of the most intense and grueling anime TV series ever made. It competes with Dog of Flanders for being the most depressing anime ever made. The natto comedy sequence at the beginning is the only humor you see in the series. This is about bad things happening to young children, such as being press ganged into being soldiers and comfort girls. It takes place in a parallel universe or the far future, but you know that things like this are happening right now in the real world (an article in the LA times said as many as 10% of combatants in the world are children.) There is nothing exploitative or graphic, except the violence, but the impact is brutal. The scenes of Sarah's psychological devastation after being forced to service the older soldiers are especially hard to take. However, this is a well made, if retro-looking show, and it has a message. All three DVDs are out. You can only feel despair after watching this. You'd better have something like OMG queued up next as an antidote. (6-22-2002)

Oh My Goddess

, The five short little tapes. Check-out Angel's cosplay for her interpretation of Belldandy:

A movie has been created which was shown at the 2001 Anime Expo. It is fantastic. The whole audience cheered when a very ticked-off Skuld zapped the bad guy big time. This Japanese interpretation of the three Fates of Norse mythology is squeaky clean and so sugary fun that will rot your teeth out. The TV series and movie are both out on DVD now. Definitely still worth getting. The TV episodes come on two discs. 2/3/2002

Princess 9 from ADV. I can't stand baseball, but this I couldn't stop watching this story of a female high school baseball team fighting for the right to compete against male teams as equals. 6 DVDs released so far. This is one case where you really wished there was a fairy tale ending. The girls deserved it, especially Yuki. In the last game Ryo starts doing her Shinji imitation and it's downhill from there. Takasugi is really a jerk and needs to have his ego knocked down a few notches. Guess in which arms Ryo ends up in at the last scene.(8-12-2002)

Princess Arete. Another I saw as part of the Egyptian Anime Festival. This has a European look sometimes. Another princess who learns how to take care of herself. In a far future, technology is only remembered as wizardry and exists mainly as a few baubles and books. Although long thought all dead, a wizard appears. Kind of a disappointing ending, but worth watching.(5-11-2003)

Project A-ko

, all tapes. A-KO is addictive after a certain point. The daughter of Wonderwoman and Superman is spunky if nothing else. A-KO, B-ko, and C-ko all learn how to get along after a certain point, even if they have to jump realities to do it. It's all on DVD now. I think a remastered version is coming out. (8-12-2002)

Rail of the Star

from ADV. Incredible historical tale of Japanese refugees fleeing Korea at the end of World War II. Doesn't ignore Japanese mistreatment of Koreans. VHS only, but get it.

Read or Die crams an incredible amount of everything into three 25 minutes OVA episodes. Yes, it is as good as they say it is. A bibliophile substitute teacher with telekinetic powers over paper, not to mention a very well endowed figure hidden under her trademark overcoat, sets out to save the world while falling in love with a clone of Mata Hari. This is going to be released in the USA middle of 2003. (10-20-2002)

Robot Carnival

You always hurt the one you love. This is a very nice anthology of robot stories ranging from the tragic to the hysterical. The steam punk battle between American and Japanese robots is a gas.

Robotech The New Generation

, tapes 1-6 out of ?. A guilty pleasure. This is what Harmony Gold did to

Genesis Climber Mospeada

. I also have the silly comic books, including the very strange Tavicat ones. This is also out on 4 DVDs now. (8-12-2002)

Rurouni Kenshin and Samurai X. The former title is used to refer to the TV series (available from Media Blasters) while the latter is used to refer to the OVAs and movie (from ADV!) The 4 part OAV is just incredible and is truly a work of art. The characters and art styles are hard to relate to the TV series except at certain times. The TV series starts off very cartoonish and silly, but eventually gets very serious, although the fight scenes are more related to HK wire fighting than to a Kurosawa Samurai epic. All available on DVD. The TV series is up to 14 discs at the last count! In a way this is a Tenchi type story since the male lead keeps growing his harem. His otherwise serious opponent/ally Saitoh makes the observation that Kaoru is the Tanuki Girl, Megumi (the former drug dealing doctor) is a kitsune, so Machimaki must be the weasel girl. There is a also a Kenshin Seisou Hen which follows Kenshin to his death by disease, with Kaoru soon to follow him. This is rendered in the same style as the Samurai X and is dead serious with no humor, but looks beautiful. The first half is a recap of the TV series told from Kaoru's point of view. (10-20-2002)

Sakura Wars

DVD. A definite triumph of form over function. Beautiful to watch even if the translation makes no sense whatsoever. The Sakura character is one of the cleanest designs in all of anime-dom. Otherwise, this refugee from a RPG is just darn weird. Looks great on the DVD. There is TV series coming out on DVD in the US and the movie was premiered in the US at Anime Expo 2002. The movie looks and sounds fantastic and features an evil American who is literally a demon. The TV series is being released on DVD as Return of the Spirit Warriors(10-20-2002)

Sazan Eyes

, also known as 3x3 Eyes. This series does get bloody, but it is also sometimes moving. The last parts of the series, retell the Chinese story of the

white snake

demon masquerading as a girl who falls so much in love that it's willing to betray its master . Check out

Caroline Young's

painting of the snake goddess. Americans play the role of fools in Shakespeare. MacDonald is the one who explains to the hero that the zombie curse isn't what controls the hero. A DVD set has been released that has everything on it!

Slayers

Movie, OAVs, and TV series,. Megumi is hilarious. Remember that Lina is only 14 and has never been kissed. My theory is that Yuriko Star is an avatar of Lina. Yuriko always punches first and asks questions later and is easily outraged. Same eyelashes. Complete TV series is out on DVD, including availability in three boxed sets. I heard that the second season kind of dragged, but it turned out to be outstanding. Believe it or not, Lost Universe is part of the Slayers World. The first TV series DVDs have finally been cured of their infamous audio glitches and have been released. (8-12-2002)

Scrapped Princess isn't too bad after the first few episodes. Sort of like Snow White with a brother and sister team of mages replacing the Seven Dwarves. Princess Pacifica develops a crush on an orphan serving girl who looks like a redheaded Rei Ayanami with a really big bust. (5-24-2003)

Sol Bianca

This DVD is incredible technically, using the same effects as Blue Submarine. The second story on the first DVD is pretty good. Three DVDs total. The last one was kind of disappointing and looked kind of rushed.

Space Firebird

I've heard there is and uncut version that has a longer opening sequence than the kiddie version I've seen. Very complex Tezuka even in this version. Sort of like an early Eva including the end of the world and a new Adam and Eve. I finally got my hands on the Phoenix 2772 full length version and it is indeed remarkable. (11-06-2002)

Spirit of Wonder as released on VHS(and very briefly on DVD) in the US was based on just one sequence from a series of stories by Kenji Tsuruta. At AX2002 I saw a two part OVA from Bandai that brings to the screen the Windy story arc. It's still in Bristol but moved to the 1950s. Windy's father, his friends, and her husband plot a trip to the moon by riding the ether currents. Of course, Windy is the mastermind who makes it all possible. This production looks really good with very high production values and a realistic animation style. Sort of an upbeat Jin-Roh. There is some gratuitous fan service provided by the 50s version of Miss China that seems out of place in so lyrical a story. Included were two shorter stories that follow the original Miss China story line. In the first Miss China shrinks to almost nothing due to one of the Professor's mad experiments, and then grows to gargantuan proportions. In the second she's back to normal size, but she and her friends, except for Miss Lily, take a dimensional trip in which Miss China gets to fight a vomit (no kidding) monster and sees her parents back in China. The screening was all in Japanese, so I'm not sure of all the details. Animeigo did release for a short time a DVD version of the original OAV which recently became available again on the Internet at Robert's Animecorner when I small cache was located. The DVD is of low quality by modern standards, but it is your only hope since both the tapes and DVD are out of release and the license has lapsed. The Windy story is called the Scientific Boys Club and may be released in the US. The original manga are available in a beautiful German edition via Amazon Germany. (5-11-2002)

Spiral. Imagine the New Kindaichi files meets the Village of the Damned. Art work isn't that great, but the story is interesting. Loner genius and a mouthy female who may be smarter than he is battle a secret organization of murderous mutant children. (4-23-2003)

Steel Angel Kurumi distributed by ADV is another story of combat androids who look like pretty girls in French maid outfits. Actually kind of entertaining, especially since it takes place in a period usually avoided by anime-the 1920s when the militarists were on the rise and Japan was about to embark on some really ill-advised adventures. Sakura Taisen and Kishin Corps are the only others I can think of. In spite of the maid outfits, and the packaging, the series is not as naughty as one might expect, with the possible exception of the scene in which the buck naked Saki is laid out on an operating table before she is activated. Although Kurumi wears a short skirt and jumps around a lot, there are no scenes in which her modesty is compromised Of course, she and Saki do appear buck-naked in some episodes. After watching all the episodes, I've decided this is sort of like Neon Genesis Evangelion with the Angels wearing the maid outfits. There is also a Special which follows the Angels settling down to what passes for everyday life for them. Saki becomes a famous movie star, Karinka narrowly avoids a date with the perverted General, and Kurumi collapses after attempting to be a Kyo-onna. Kurumi 2 is another series in which the Angels show up in the current period and end up in junior high and high school. Kurumi Zero apparently takes place in the future after the Demons have been beaten and the Angels retire as moochers who have moved in with a suicidal girl. (10-20-2002)

The Tale of Genji Beautiful, but it put me to sleep. I think an animated biography of Lady Murasaki might be better.

Tenchi stories

Another guilty pleasure. Kiyone is my favorite, although she really isn't in the original OAV series. A standing question is whether Ryoko and Ayeka are a couple. Of course they are, at least in the sense that they are inseparable and they are continuously trading off being the Maiden in Distress so they can rescue each other.

Tenchi in Love The title has no relation to the story. The assumed roles in the past give some more insight to the characters.
Tenchi in Tokyo, 8 DVDs available. Do we get to see Yuki when she grows up? Kind of long for what's there, but some moving scenes in the last episode. I finally gave away the DVDs and tapes I had.
Tenchi Muyo OAV series DVD. This is the continuity I prefer with Ryoko a 700 year old demon who tries to kill Tenchi at first. Washu's background as a wronged mom is also important. The OAV continuity is supposed to be resumed soon.
Tenchi the Movie 2, The Daughter of Darkness is very strange.
Tenchi Forever is the most sophisticated of all the stories. Ryoko and Ayeka even cooperate.
Tenchi Universe (the TV series). Some episodes are really good, especially the alternate universes one and the ghost ship story. We also get a bid dose of Kiyone.
Pretty Sammy tapes Sasami as Tenchi's little sister makes sense. I liked the story that made fun of Bill Gates. (6/22/2002)

Tree of Palm. This very artsy movie is a telling of the Pinnochio story in a world that looks like something out of Metal Hurlant. Some characters look as if they came from a children's film, but this is very heavy, serious stuff.

Tsukikage Ran

, Carried by the Wind (Carried by the Wind Moon-Shadow Orchid) from Madhouse and distributed by Bandai has beautiful animation and deadly fight scenes, but is also a Xena style comedy. The Enka opening song is a change of pace. A female Toshiro Mifune character with a weakness for sake and a cute female Chinese martial artist wander what looks to be the Tokugawa era countryside. 13 episode TV serie. The fight scenes are incredible and people do get killed in them, especially the innocents. All of the episodes are fairly similar, but that is okay. An American female fighter Stephahie, appears, as well as Ran's ex-boyfriend who taught her swordshmanship.(5-26-2003)

Urusei Yatsura

, selected episodes, OVAs, movies.

Beautiful Dreamer

has to be some kind of classic and is out on DVD. That and other episodes are very experimental and trippy. DVDs of the TV series are coming out. These still look as good as anything out now. (10-20-2002)

Venus Wars

Early classic cynical antiwar anime. Also a manga, including a version in which the story is told from the opposite side. I think a DVD is out. (4-7-2002)

Video Girl Ai

I didn't like the ending. I'm really starting to hate the manga. The first episode was promising.

Voices of a Distant Star (Hoshi no Koe) is an amazing half hour created by an out of work guy in Japan on his G4. I saw the anime at the 2002 Comicon with a panel including the creator and voice actors. This is an original take on the Gunbuster plot with an interesting twist. ADV will be distributing it and it's worth a look. (1-18-2003)

Wings of Honeamise

Another classic. Out on DVD, but doesn't look that good. Still worth buying. Gainax amazes in this story of the space race on another planet or parallel world.

Witch Hunter Robin. I've seen almost all of this TV series. Like Juuni Kokki, it is dead serious and dark with no comic relief or romance. In a parallel world witches are real and hunted down by international agencies. Robin is a witch, a firestarter, who was trained by the Vatican to hunt down other witches, just as the US Cavalry used Apache scouts to hunt down other Apaches. You know what happened to those Apache scouts when they weren't needed anymore. Highly recommended. (5-11-2003)

Wolf's Rain. In a dying world, four werewolves search for salvation. Works better than it sounds, with music by Yoko Kanno. Looks good so far. (2-28-2003)

You're Under Arrest

episodes 1, 2, 5, 6, 9-12. The series goes up to over 40. I saw the last episode at that con in D.C. The same people who brought you

Oh, My Goddess

. Look for the Emily in one of the early episodes. It actually exists. I think an American DVD collection of the first four episodes is coming out, plus part of the TV series.. Who knows when the movie is coming here. At Japan Expo 2002 I actually saw on sale the American import DVD collections being previewed. (1-18-2003)
I finally decided to make a list of shows I've seen and either disliked or felt weren't worth a mention.





Last Update: 26May 2003 Web Author: Doug Ikemi