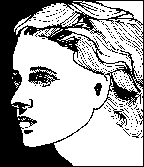 Princesses who came to bad ends,

but not for anything they'd done. Well, they didn't all come to bad ends, but they were at least disappointed. Well, some weren't disappointed at all.
This page could also be titled, Heroines from Antiquity, Fantasy, Literature, and Real Life
This page is a mishmash of fiction, history, silliness, and seriousness. To give the loser gender some air time, there is a page called Ein Heldenleben.

First of all, princesses from antiquity.
Robots or Fabricated Women

(Mainly from the world of anime.)
Now for something completely different and not quite as heavy. Automatons made in the likeness of females, from the worlds of anime, manga, and science fiction. It all started with Helen O'Loy. This list isn't meant to be definitive; just the ones I like. Plenty of spoilers ahead.
Ifurita the Demon Goddess from El Hazard the OAV. She's a wind-up doll with thermonuclear-like capabilities. We learn in the second OAV that she was mass produced. She has albino coloring with striking blue-white hair. She's sort of a grown-up, mechanical version of Ruri-Ruri. Ifurita is probably one of the most uncompromisingly romantic designs in anime, and it's a big shame that she never really appears in El Hazard, the Alternative World. Like Jesus and Sherlock Holmes, she has a lot of missing years she has to explain, spent wandering from the Eye of God to a school basement in Japan. The black-haired TV Ifurita is okay, too, but not in the same class as the white-haired one. Ifurita is cold, aloof, and deadly, but it's not her fault.
Alpha Hasseno, A7M2 from Yokohama Shopping Trip. She's apparently some sort of bio-mechanical device since she seems to derive her power from metabolizing sugars and carbohydrates. We know she can't digest animal protein. She carries an unloaded pistol for some reason and she has what seems to be a data port in her mouth. We do know that her skin and hair are artificial. She normally rides something that looks like a Vespa and uses eye protection. She loves taking pictures while she lives her Waiting for Godot like existence.
Kokone Takatsu, A7M3 from Yokohama Shopping Trip. She's a later model than Alpha. Hair color indicates the model. M2 models have green hair, M3s I think have red. Kokone's hair is also shorter than Alpha's; a pageboy cut. She does carry a gun and in one episode we see her drawing it in self-protection.
The Puma Sisters from Dominion Conflict. Apparently they were sex worker models but were used by the revolutionaries as expendable shock troops. The police capture them and put them to work as officers. One of them even ends up as an unwelcome crew member on Leona's tank. They have very nice handwriting and fire control systems. They have a super-deformed mode, but are normally very statuesque. They always appear to be destitute and are last seen in the translated manga taking up residence in the police station morgue.
Mian Toris from Caravan Kid. A walking, talking, boozing circuit breaker. Extremely violent and psychotic. Red hair, of course, and a tail? The Empress is also an android.
Fatimas from Five Star Stories. The latest in fire control systems. The Manga is coming out in a large format translated edition that is up to Volume 12.
Hyperdolls have a very dry sense of humor. Android police officers who take orders from pizzas and enjoy terrorizing their young sponsor by threatening to rip off the heads of humans who may betray their real identities. Schoolgirl and rival Shoko teaches them to drink beer. They already knew how to eat pizza.
Hand Maid May appears in a 13 episode TV series which includes some gratuitous fan service. I've only seen the 1st episode and the one in which May is repossess and returned full size. The former was pretty raunchy while the latter was pretty clean. May initially is a table top sized USB ( why not firewire?) device in the shape of a maid. She's a "Cyberdoll" from a company in the future called Cyberdyne. Hmm, I think that's the same name of the company that created the Terminator? May herself is sweet and innocent, although she wears a sleazy maid outfit. Her owner Kazuya eventually finds himself surrounded by a whole sorority of Cyberdolls, sort of like Clint Eastwood in the Beguiled, which isn't all that unusual in the world of anime.
At the 2001 Animexpo there was a gal dressed as May, complete with USB plug. I bought the collectors' DVD of the Terminator and realized that May is basically a Japanese version of the same, with May filling the Arnold role.
Someone even wrote a HMM clock for your desktop, but it doesn't appear to be available now.
My Dear Marie from Boku No Marie (yes, it means almost the same in English) anime and manga. Created as a robot fantasy girl, she instead is adopted as part of an artificial and dysfunctional family. The manga does appear to have some disturbing scenes. She eventually develops her independence and identity, refusing to be bound by her programming. The title is interesting because boku no implies ownership of an object. The title is highly offensive to modern Japanese speaking women. If you follow the manga all the way through, the story turns out to be a very literal retelling of Pygmalion and Galatea.
Amazing Nurse Nanako Most of what you see about Nanako on the net is misleading. Since this is a show you probably won't watch to the end, I might as well explain it. Nanako is a clone, which gives her the credentials to fit in here. In fact, she is the third clone of the original Nanako who was a classmate and worked as a nurse for Dr. Ogami's grandfather. She died young and the obsessed doctor (apparently an inherited trait) managed to clone her. Unfortunately, the clones are faulty and die at age 20. (Just like a certain cloned sheep.) Dr. Ogami was raised by the second clone. In the flashbacks, which are told seriously as tear-jerkers with a realistically rendered Nanako, the child Ogami is traumatized and permanently twisted psychologically, apparently, by the death of Nanako III. His chief memory of his childhood is Nanako's coffin being taken away in the rain. On her death bed he swore that he would become a doctor and heal her. With Nanako IV (unknown to her) he finally has his chance. The cloning definitely seems to have problems since the current Nanako is nothing like even Nanako III. The now arrogant, ruthless, and sadistic bishounen Dr. Ogami is still true to his promise, suckering both the Vatican, who want to resurrect Jesus, and the Pentagon, who want super soldiers, into supporting his research to heal the current Nanako before she, too, dies at 20. This Nanako is very un-PC, looking like a caricature of a reject from a G-taste album.
Nuku Nuku of All Purpose Cultural Catgirl Nuku Nuku (the OAV, there are 2 other versions of Nuku Nuku) is actually a dead cat brain in a war mech chassis. This of course means she has to be completely adorable, except to a certain pair of psychotic OLs. Even okasan is eventually won over. Nuku Nuku becomes a waitress to pay for a bicycle she inadvertently destroys. Besides bicycling, her favorite activity seems to be lying on the roof and eating pastries. Nuku Nuku may want to compare notes some day with that other dead cat, Sheba. In the last episode of the original OAV, Nuku is left marooned in space after performing a selfless rescue of okasan with her archenemy Emi...
Emi of All Purpose Cultural Catgirl Nuku Nuku, like Kokone, is a later model. Unlike Kokone, she wants to be the only model. Emi was once or was modeled after the dead daughter of a scientist. She's another tragic Dead Girl. The original girl and her parents were killed in a lab disaster.Her grandfather built the robot to bring his granddaughter back to life, but then he died in another lab accident. Grandfather didn't do that good a job and Emi knows her body will fail if it overheats. Emi is afraid of dying again and wants Nuku Nuku's body and spends most of her screen time trying to kill Nuku Nuku. Nuku Nuku, on the other hand, continuously if futilely tries to befriend the little android. Eventually they team up to save Mom.
Umetsu's "Fantasy Girl" from Robot Carnival. You always hurt the one you love. In the near future an alienated salaryman with a cold and distant professional wife tries to create the perfect android companion. When he turns out to be more successful than he ever dreamed, he destroys his own creation. In old age the spirit of his creation returns for him and he's finally able to accept it.
Blue Sonnet is actually a cyborg who appeared in a two tape collection. She's a girl from the slums who is brutalized and then transformed by an American corporation into a killing machine. However, she does begin to feel some remorse. There is an article about her in the now defunct but excellent Anime UK.
Thekla from Valiant's Magnus, Robot Fighter. She's the only noble, idealistic character in the Valiant Universe, with the possible exception of Darque's sister. (Archer knows she's good, so she has to be-Archer doesn't count since he has a lot of uncontrolled anger.) She's eventually brutally murdered by Magnus, so she could fit into the previous category. She also loved him. St. Paul had an unwanted girlfriend, St. Thecla, who may be the inspiration for this one. Thecla dressed up as man to follow Paul. Thekla takes the form of a woman to follow Magnus, who never requites her love.
Ruri Hoshino from Nadesico. Ruri is human, but she was created in a test tube and was the subject of unethical gene manipulation. Like the Fatimas, she was designed to be the interface to the computer controlling a massive battle system, in this case the Nadesico. She's definitely a fabricated life form, since no human 11 year old could be so cute, cynical, and world-weary at the same time. She realizes that her one year on the Nadesico comprises her only real memories; all the rest was programming by the lab in which she was raised. She usually shows no emotion, but is protective of Yurika. She can be violent, slapping the scientist who created her when she finds out what he did. She is a real princess, and her knight is Akito. She nearly brains a cook in her homeland who attacks Akito. At the end of the movie she professes her love for Akito and vows to search for him if he doesn't return. By the time she reaches 16, she's the golden-eyed "electronic fairy" and worshipped, much to her surprise, by the combined Earth and Jovian fleets. She has the same coloring as Ifurita. Baka.
Ryoko from Tenchi. When Washu was in the university, she had a baby with a student who belonged to an important family. The family did not want such a common girl as Washu to associate with their son, so they took the baby from her. After, Washu could never deal with the adult world again, and presents herself as a child. When she became a mad scientist, she created Ryoko as her daughter using a combination of a primitive life form and her own ovum. Ryoko was soon taken away by a villain and she and Washu weren't reunited until they both met Tenchi. Ryoko is accompanied by another artificial life form, the cabbit Ryo-oki. Ryoko is best buddies with Princess Sasami and is inseparable from Princess Aeka. Ryoko and Ayeka are some sort of couple. Although they always fight, they always hang out with each other and seem to pass out in the same places. Galaxy Policewomen Kiyone and Mihoshi idolize her. (See Tenchi in Tokyo.)
Maetel I'm really stretching here, since Maetel was once human, but she traded her original body in for another one. As renegade crown princess and later queen of the Machine World, she should be at least an honorary android. Maetel dresses in fur trimmed black, looking like a Russian countess. She is always carrying a mysterious suitcase. Matsumoto says that she's modeled after a French actress he admired. I'd put my money on Catherine Deneuve. Maetel's sister is Emeraldas. She has many mysterious abilities, including apparently the power to travel through time.
Annie the android from Please Don't Leave Me Alone Daisy Annie is actually the reincarnation of Techno's grandmother, who was killed during a B-29 bombing raid during World War II. Her husband, a scientist far in advance of his time, preserved enough of her body to revive her in mechanical form. This is one of the few animes that deals directly with the B-29 firebombings. When we learn Annie's story, it suddenly becomes clear that this otherwise offensive and bizarre story is about world peace.
Andromeda from Fred Hoyle's books A for Andromeda and Andromeda Breakthrough Of the many science fiction stories I've read, this is one that still rings true. Long before Species this story told how the Jodrell Bank radio telescope receives alien directions for building a super computer. Along with a lot of other recipes, the computer gives the humans instructions for creating a girl, based on a scientist it had killed. The resulting Andromeda initially is a murderous monster, but then transforms into the classic maiden in distress. There was a BBC adaptation in which Andromeda was initially played by Julie Christie in the A for Andromeda segment. In the sequel Andromeda Breakthrough Christie was replaced by a cheaper and then unknown Susan Hampshire! Apparently no complete prints of the first series exist but the Hampshire episodes are supposed to be in a BBC vault somewhere. This is a much better story than Species. Besides the cute heroine, there are mad scientists and the End of the World.
Canal Vorfeed from Lost Universe. Canal is not strictly speaking a mechanical woman. Strictly, speaking, she isn't always a woman, for that matter. She is a hologram projection of the artificial intelligence that runs the starship Swordbreaker. Actually, she's more like an escapee from a Star Trek Holodeck., since sometimes she can apparently have mass and inertia. She's also a god from the Slayers universe.
R. Dorothy Wayneright is an old-fashioned mechanical girl. In fact, her name seems to be a nod to Asimov's world of robots. Although you can hear the servos whine when Dorothy moves her head, she's just as sullen and sarcastic as a human teenager. If Ifurita is one of the most romantic designs, then Dorothy is one of the most classic and clean designs. She's highly stylized and her face never changes expression, except for registering despair, but her retro 50's, refugee from an industrial training film look is about as well balanced as can be. She's a slim redhead with a pageboy who wears full skirts and flats. She's faster and stronger than any human, but apparently not any smarter since she can fall in love. She also weighs a ton. Just like EMI, Dorothy is the synthetic reincarnation of a scientist's dead daughter. She indentures herself to Roger Smith after losing both of her "fathers", and her maid outfit is highly flattering, although definitely not a French maid type. Although Roger mocks her attempts to be human, he doesn't hesitate to risk his life when she's in danger. Unlike most anime in which synthetic women are taken for granted and accepted in their societies, Dorothy is not accepted as an equal of humans. The observation has been made that she is very much like one of Asimov's robots (I, Dorothy?) Dorothy is also more limitied than other anime/manga robots. She goes through the motions of eating, but she can't taste what she eats or drinks; she only has her memories of food. One of the tragedies of life is that her anime series, The Big O was stopped at only 13 episodes before it was completed. Will there be a second season? The manga is now being translated into English
Hecate from Tezuka Osamu's Princess Knight. She's one of the complex characters, such as Captain Blood, who keep Ribbon no Kishi from being a simple fairy tale. Hecate was created from something such as an insect or vermin by her mother, Madame Hell, to be the nemesis of Princess Sapphire. Although loyal to her mother, Hecate selflessly helps Sapphire and Franz. She' also doomed to know that her mother's plans are futile and that there is no hope for her, since her fate is tied to her mother's. Her only wish as she's dying is that Franz leave her alone so he won't see her revert to her real form. Although doomed and fatalistic, Hecate is willing to bravely play her role out to the end. I hope that when Tink gets back to Heaven with Venus, he'll find Hecate there.
Yuzuki from Chobits is a robot (persocon) who is another dead girl, like Dorothy Waynewright. Minoru built her in a futile attempt to resurrect his dead sister. He eventually realizes his failure and stops programming her with information about the dead girl.

Well, might as well go to the world of Literature.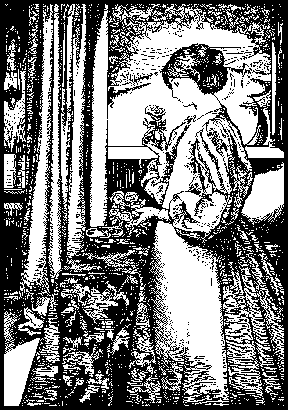 Esther Summerson I've had a theory for a long time that Esther is really using an ironic tone in her narrative most of the time. I think she's really a Miss Wade in the making, or maybe even a Cousin Bette. She's very bitter and resentful at heart, and definitely very vain. However, she does seem to be able to cope and she can be proactive, unlike some other Dickens heroines. She's probably very good at making other people miserable and leaves broken households in her wake.
Tattycoram from Little Dorrit was one of Chuck's most colorful and lively/angry heroines until she reformed. For a minor character, she gets a lot of print time and she at least has some liveliness. Someone should write some dojinshi speculating about her and that awful Miss Wade. She probably grows up to be another Esther Summerson. Dickens' introduction of Harriet demonstrates that he could write concise, economical prose if he wanted: "He spoke to a handsome girl with lustrous dark hair and eyes, and very neatly dressed, who replied with a half curtsey as she passed off in the train of Mrs Meagles and Pet.." compare that to his florid description of Pet a few paragraphs away.
Chieko and her Secret Sharer, Naeko from Kawabata's Koto Nothing happens in this novel, but I love the atmosphere.
Rebecca, daughter of Issac of York. Rebecca was a very independent heroine who chose a medical career over her thickheaded admirer Wilfred. The medieval Rebecca was based on a real person, Rebecca Gratz, who was a contemporary of Scott and lived in New York. Her (the fictional Rebecca's) looks were enough to make a corrupt Templar betray his cohorts and all of Robin's Merry Men her fanboys. Not to mention Wilfred, who ditches the blond, but bland, Rowena without a second's hesitation to joust for R's life and honor. The real Rebecca was also one of the beauties of her day and apparently led a completely noble, pious, and, altruistic life. If that wasn't enough she was an important organizer of benevolent societies, a staunch defender of her religion, and a student of English literature and poetry. As in the case of her fictional namesake, she never married.
Violet Hunter of the Copper Beeches. I 've only seen one work, a play, that exploited Sherlock's weakness for freckled redheads named Violet. Violet de Merville was sort of bland but this Violet had some life and was the classic maiden in distress. As Watson laments, though, Sherlock only has an interest in this category of damsel as long as they're in distress. Someone should speculate on this redhead thing. Don't miss The Private Life of Sherlock Holmes if you can find it (sorry, no Violets in it).
Minna von Barnhelm. Stand by your man.
Eugenie Grandet. Henry James had to reinterpret her as being plain. Balzac was French so Eugenie had to be beautiful (and busty). She was lucky since her suitor completely ditched her. Although Balzac seems to pity her at the end, in a modern context she would be seen as coming out on top as an indepent business woman.
Long before Buffy, there was Miss Wilhelmina Murray. She just completed a run as the leader of the League of Extraordinary Gentlemen, battling Prof. Moriarty.
Finally, how about some modern real-life heroines: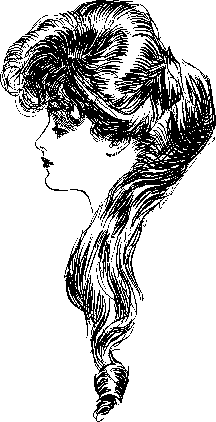 Nellie Bly was the pen name of the famous late 1800s woman journalist
Matilda of Canoosa, a genuine, real-life, warrior princess, actually Countess of Tuscany. Born in 1047, she became the sole heir to the most powerful landholding in Italy. With no close male relative to defend her, she was trained to be equally skilled at embroidery, using the lance and spear, or for that matter the pike, battle-axe or sword. She also learned four languages and how to read and write, a rarity in her time.
Elizabeth Cochrane . She appeared in a DC comic book called Brave Old World. Nellie, whose pen name, came from a popular song of the time, pulled off several high profile stunts and then retired to marry a much older rich man.
Florence Nightingale I always liked Flo because she wore sensible shoes. She was also one of the beauties of the Victorian era and she turned down a marriage proposal from a man who would one day be prime minister. Although highborn with a classical education, she reformed the profession of nursing and raised the status of the common British soldier from the level of a brute to a human being.
Jane Austen raised cynicism and irony to new levels that have rarely been matched. She was a bitter spinster with a very sharp tongue who could also go in for a good belly laugh as in the early Northanger Abbey. While she was writing, two of her brothers were line officers in the Royal Navy during the Napoleonic Wars. England was under the constant threat of invasion and it was the era of Horatio Hornblower. Jane knew all of that, but she chose to work with her miniatures. Girls in this period would put on their muslin Empire cut gowns wet so that they would hug their figures when dry. Can one imagine Miss Austen doing that? Just as in the Startrek fan world one has Trekkies and Trekkers, we also have here Janeites and Austenites.
Willa Cather proposed the thesis that the "old" American stock had run out of energy and vitality and it was only the immigrants, such as Bohemians, Scandinavians, and Germans during her time, who could bring it back. I went to the Cather museum in her home town and sure enough, there was a picture showing her costumed for a school play as a boy. Check out another website on the Prairie
Donaldina Cameron started an early version of Children of the Night in San Francisco's Chinatown fighting white slavery, called Ming Quong. She was a fearless New Zealand girl who came to San Francisco at the age of 23 and soon, like Lois Lee, started rescuing teenage girls from the ravages of prostitution. Chinese girls brought to the US as sex slaves were often dead at the end their teens at the turn of the other century.

Dickens' characters page

Project Gutenberg
On-line Books digital library







Last Update: Decemer 5, 2004
Web Author: Doug Ikemi